The Dhandho Investor by Mohnish Pabrai
Author:Mohnish Pabrai , Date: September 21, 2017 ,Views: 2959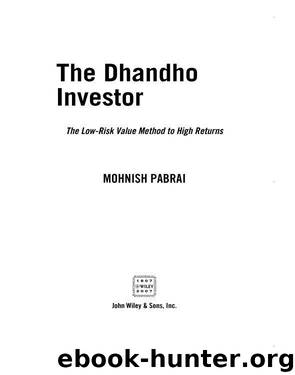 Author:Mohnish Pabrai
Language: eng
Format: epub
Publisher: Wiley
Published: 2010-12-31T05:00:00+00:00



We like to own castles with large moats filled with sharks and crocodiles that can fend off marauders—the millions of people with capital that want to take our capital. We think in terms of moats that are impossible to cross, and tell our managers to widen their moat every year, even if profits do not increase every year. We think almost all of our businesses have big and widening moats.3
—Warren Buffett
Mr. Buffett is exceptionally good at buying businesses with enduring moats and arbitrage spreads. Nonetheless, even at Berkshire, some wonderful businesses have seen their moats empty out. A couple of examples are Blue Chip Stamps and World Book. Blue Chip Stamps, like the Sperry and Hutchinson green stamps, were given to consumers by retailers based on the dollars spent. It worked well to instill loyalty to merchants that offered these stamps. An individual could turn these stamps in and get various reward items for free. The business has all but vanished. Airline miles are the closest analogy to Blue Chip Stamps, and they have helped wipe that business out.
World Book is an encyclopedia publisher that's owned by Berkshire Hathaway. Its main competitor used to be Encyclopedia Britannica. Today both businesses are virtually nonexistent. Britannica or World Book can't hold a candle to Google. Their moats have all but evaporated.
The Buffalo News is another Berkshire subsidiary that is the dominant newspaper in Buffalo. For many years, the Buffalo News was a virtual monopoly. Newspaper readership is declining, and its moat is shrinking slightly every day. This does not mean these were bad investments. On the contrary, all three have been home runs for Berkshire. They had very robust business models for enough years for Berkshire to generate a spectacular return on its investment. See's Candy was partially bought from float dollars at Blue Chip Stamps.
We know that all Dhandho arbitrage spreads will eventually disappear. The critical question is: How long is the spread likely to last and how wide is the moat? As stated by Mr. Buffett:
Download


Copyright Disclaimer:
This site does not store any files on its server. We only index and link to content provided by other sites. Please contact the content providers to delete copyright contents if any and email us, we'll remove relevant links or contents immediately.