Rich Dad's Guide to Investing by Robert T. Kiyosaki
Author:Robert T. Kiyosaki , Date: December 24, 2017 ,Views: 1946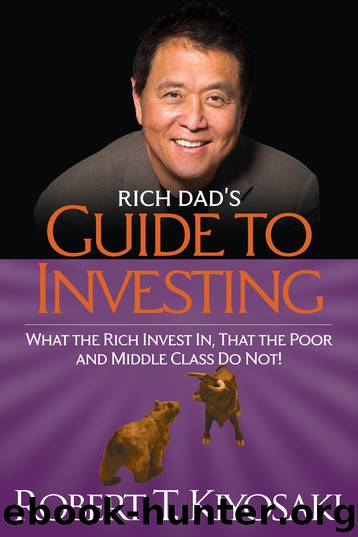 Author:Robert T. Kiyosaki
Language: eng
Format: epub
ISBN: 9781612680224
Publisher: Plata Publishing, LLC.
Published: 2015-11-01T04:00:00+00:00



Chapter Twenty-Three
THE QUALIFIED INVESTOR
Rich dad defined the qualified investor as a person who has money as well as some knowledge about investing. A qualified investor is usually an accredited investor who has also invested in financial education. As it relates to the stock market, for example, qualified investors would include most professional stock traders. Through their education, they have learned and understand the difference between fundamental investing and technical investing.
1.Fundamental investing
Rich dad said, "A fundamental investor reduces risk as he or she seeks value and growth by looking at the financials of the company." The most important consideration for selecting a good stock for investment is the future earnings potential of the company. A fundamental investor carefully reviews the financial statements of any company before investing in it. The fundamental investor also takes into account the outlook for the economy as a whole as well as the specific industry in which the company is involved. The direction of interest rates is also a very important factor in fundamental analysis.
2.Technical investing
Rich dad said, "A well-trained technical investor invests on the emotions of the market and invests with insurance from catastrophic loss." The most important consideration for selecting a good stock for investment is based on the supply of and demand for the company's stock. The technical investor studies the patterns of the sales price of the company's stock. Will the supply of the shares of stock being offered for sale be sufficient, based on the expected demand for those shares?
Download


Copyright Disclaimer:
This site does not store any files on its server. We only index and link to content provided by other sites. Please contact the content providers to delete copyright contents if any and email us, we'll remove relevant links or contents immediately.