Magnus Chase and the Gods of Asgard, Book 2: The Hammer of Thor by Rick Riordan
Author:Rick Riordan [Riordan, Rick] , Date: August 22, 2017 ,Views: 1907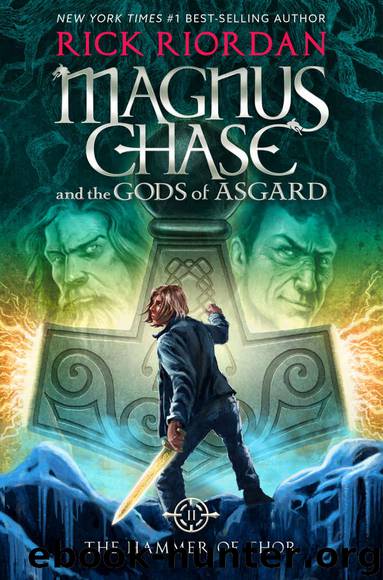 Author:Rick Riordan [Riordan, Rick]
Language: eng
Format: epub
Publisher: Disney Book Group
Published: 2016-10-04T07:00:00+00:00



Annoying fact about traveling between worlds: you often pop up exactly where you need to be, whether you want to be there or not.
Four people I knew already stood on the rooftop, though I had no idea why. Sam and Amir were having a hushed argument at the base of a huge illuminated billboard. And not just any billboard, I realized. Towering above us was the famous Boston Citgo sign, a sixty-foot square of LEDs that washed the rooftop in white, orange, and blue.
Sitting on the edge of the roof, looking very bored, were Halfborn Gunderson and Alex Fierro.
Sam and Amir were too busy arguing to notice me, but Halfborn nodded in greeting. He didn't seem surprised.
I walked over to my fellow einherjar. "Uh…'sup?"
Alex skipped a piece of gravel across the roof. "Oh, so much fun. Samirah wanted to bring Amir to see the Citgo sign. Something about rainbows. She needed a male relative as a chaperone."
I blinked. "So you…?"
Alex gave me an exaggerated at-your-service bow. "I'm her male relative."
I had a moment of reality-flipping vertigo as I realized that, yes, indeed, Alex Fierro was presently a he. I'm not sure how I knew, other than the fact that he had told me so. His wardrobe wasn't gender specific. He wore his usual rose high-tops with skinny green jeans and a pink long-sleeved T-shirt. His hair, if anything, seemed a little longer, still green with black roots, now combed to one side in the shape of a wave.
"My pronouns are he and him," Alex confirmed. "And you can stop staring."
"I wasn't…" I caught myself. Arguing would've been pointless. "Halfborn, what are you doing here?"
The berserker grinned. He'd put on a Bruins T-shirt and jeans, maybe to blend in with the mortals, though the battle-ax strapped across his back was sort of a giveaway. "Oh, me? I'm chaperoning the chaperone. And my gender hasn't changed, thanks for asking."
Alex smacked him, which would've made Mallory Keen proud.
"Ow!" Halfborn complained. "You hit hard for an argr."
"What have I told you about that term?" Alex said. "I will decide what is manly, unmanly, womanly, or unwomanly for me. Don't make me kill you again."
Halfborn rolled his eyes. "You killed me one time. And it wasn't even a fair fight. I got you back at lunch."
"Whatever."
I stared at the two of them. It dawned on me that, over the last day and a half, they had become friends…in the sort of trash-talking, murdering-each-other way hallmates bonded on floor nineteen.
Alex slipped his garrote from his belt loops. "So, Magnus, did you manage to heal your dwarf?"
"Uh, yeah. You heard about that?"
"Sam filled us in." He started to make a cat's cradle with his wire, somehow managing not to cut off his own fingers in the process.
I wondered if it was a good sign that Samirah had shared information with Alex. Maybe they'd started to trust each other. Or maybe Sam's desperation to stop Loki had simply overridden her caution. I wanted to ask Alex about the dream I'd had of Loki in his suite, asking Alex for a simple request while Alex threw pots at him.
Download


Copyright Disclaimer:
This site does not store any files on its server. We only index and link to content provided by other sites. Please contact the content providers to delete copyright contents if any and email us, we'll remove relevant links or contents immediately.