Lionboy: the Truth by Zizou Corder
Author:Zizou Corder [Corder, Zizou] , Date: March 14, 2016 ,Views: 483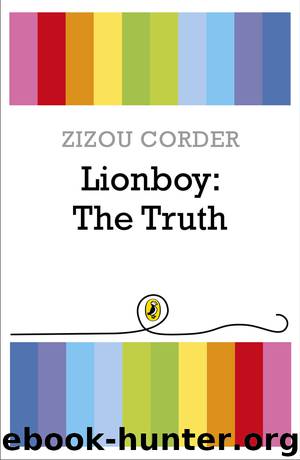 Author:Zizou Corder [Corder, Zizou]
Language: eng
Format: epub
ISBN: urn:isbn 9780141935959
Publisher: Penguin Books Ltd
Published: 2013-04-25T16:00:00+00:00



Chapter Ten
The first thing Aneba and Magdalen noticed, apart from endless waves, endless sky, and more endless waves, was that one morning there was reception again on their telephones.
'We must be nearing land,' said Magdalen, up on deck, holding her cup of coffee and staring determinedly to the west, as if by staring she could bring the land into view.
'Hey – I've got messages,' said Aneba.
Magdalen immediately flicked round to him.
'It's Mabel,' he said. Then smiled. It was like dawn after a long and restless night.
He passed his phone to Magdalen. 'We were right,' he said. 'There is no official Corporacy Community in the Caribbean, but there is, apparently, listed under the international land ownership regulations, a Corporacy warehouse on the island of San Antonio. It's north-east of Cuba, very small.'
'San Antonio, eh?' said Magdalen. Their spirits lifted for the first time in weeks. 'San Antonio, here we come.'
It turned out to be not such a long way away.
'Beautiful,' said Suleiman as they approached, and indeed it was. Their first view was a wild coastline of cliffs and rocks, high and fierce, with mountains behind and waves crashing at its feet. Heavy greenery festooned the higher clifftops, thick and lustrous, swamped regularly by the salt spray from the crashing Atlantic waves surging in against them. Rainbows sparkled and danced in the flying spume. It was magnificent.
'I will not land here,' said Suleiman.
They continued round to the south side of the island, at a fair distance.
'With cliffs like that you don't really need security,' observed Aneba. 'But there will be a way in, and it will be protected.'
The island's harbour appeared soon enough. It was a smallish cove, on the south-western end of the island. It was immediately recognizable because on the spit of land that protected it from the Atlantic surf, there was a tall metal mast, and from the mast bristled cameras, wires, chip boxes and lord knows what other state-of-the-art security paraphernalia. The cove within looked like paradise – palms, jetties and a shady beach – but the mast was not letting anyone through.
As Suleiman's Joy moved west, one of the cameras was following her progress.
'They already know we're here,' said Magdalen.
'Oh, we're not here,' said Aneba. 'We're just passing by, going about our business … Best get below – we don't want to be recorded.'
'Tum ti tum ti tum,' hummed Magdalen.
Suddenly Aneba twitched his nostrils. 'Did you get that?' he said.
'What?' said Magdalen.
'That smell.'
Magdalen turned her head in the breeze, trying to catch the scent that had made Aneba jump. And then she did. A sweet, cool scent, very attractive, refreshing, mmm, it made you want to keep breathing it …
'Oh!' she cried. 'It's the – it's that sedative thing that they used in Vence. Ugh, I'd recognize it anywhere. Ugh.' She held her nose swiftly, and turned away to the other side of the ship.
'Well, we're definitely in the right place then, aren't we?'
'Sure, but how can we go there? That stuff had both of us stupefied before …'
Aneba thought.
Download


Copyright Disclaimer:
This site does not store any files on its server. We only index and link to content provided by other sites. Please contact the content providers to delete copyright contents if any and email us, we'll remove relevant links or contents immediately.