Lincoln and the Power of the Press The War for Public Opinion by Harold Holzer
Author:Harold Holzer , Date: November 24, 2014 ,Views: 293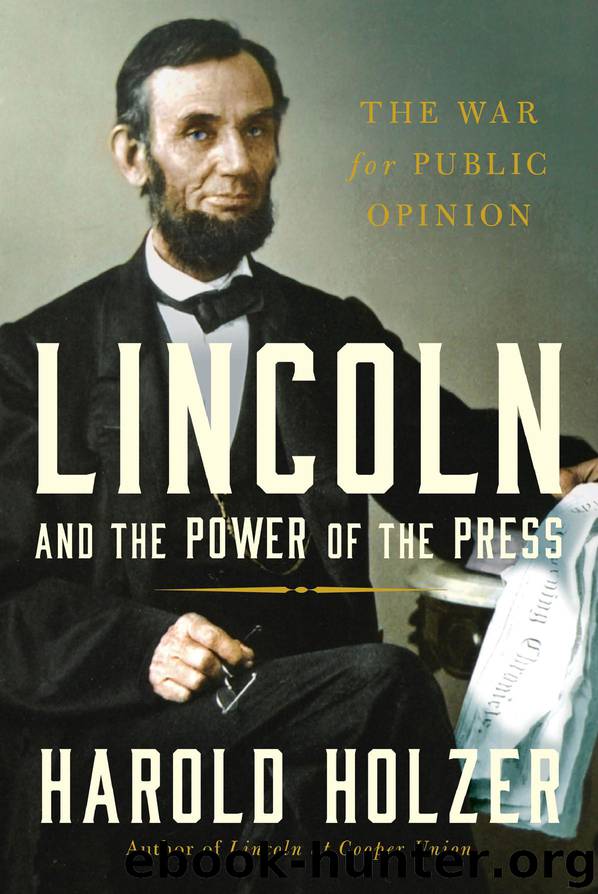 Author:Harold Holzer
Language: eng
Format: mobi, epub
Publisher: Simon & Schuster
Published: 0101-01-01T00:00:00+00:00



Suspected of leaking the president's 1861 annual message to the Herald: Mary Lincoln (left) and her friend "Chevalier" Henry Wikoff (right).
But Lincoln surely knew who bore the principal guilt for the scandal. When, late in September, the persistent "Chevalier" brazenly petitioned the president for a pass to accompany a naval vessel down the Potomac "as a reporter for the Herald," Lincoln refused to accommodate him. Explaining his decision to Bennett, Lincoln was careful to avoid mention of the Annual Message affair; Wikoff's request, he insisted, had simply arrived too late at night to justify awakening the secretary of the navy. "I write this to assure you," Lincoln told Bennett, "that the administration will not discriminate against the Herald, especially while it sustains us so generously, and the cause of the country so ably as it has been doing."114 The ban applied to Wikoff alone—not the newspaper for which he worked—that is, the president implied, as long as the Herald sustained the administration. Lincoln never mentioned Wikoff's name in writing again.
Mary Lincoln surely knew how close she came to public exposure. Months before the purloined letter incident, she had reached out to flatter the powerful Bennett, thanking him for "the kind support and consideration, extended towards the Administration, by you, at a time when your powerful influence would be sensibly felt." In her rambling prose style, clogged as always with an overabundance of commas, she added: "In the hour of peace, the kind words of a friend are always acceptable, how much more so, when a 'man's foes, are those of their own household' . . . rights are invaded and every sacred right, is trampled upon!" Mary's reference to foes within the "household" may have applied to the fractured Union, or to her own White House coterie, Wikoff and Watt included; she did not specify. She was merely grateful "in my own individual case, when I meet, in the columns of your paper, a kind reply, to some uncalled for attack, upon one so little desirous of newspaper notoriety, as my inoffensive self."115
Abraham and Mary Lincoln were not the only observers to notice how thoroughly Bennett's Herald had altered its once hostile editorial policy since it first tasted the anger of the mob back in April 1861. Visiting English writer Anthony Trollope, whose own novels abounded with brawls of the kind in which Bennett had once specialized, concluded that despite "the largest sale of any daily newspaper," the Herald's violence-prone editor was now "absolutely without political power," having "truckled to the Government more basely than any other paper." Trollope thought the situation a matter of just deserts for what he regarded as the most offensive of the "tyrannical and overbearing" American newspapers, one for which "vituperation" had long been a "natural political weapon." But "since the President's ministers have assumed the power of stopping newspapers which are offensive to them," Trollope charged, "they have shown that they can descend to a course of eulogy which is even below vituperation."116 What
Download


Copyright Disclaimer:
This site does not store any files on its server. We only index and link to content provided by other sites. Please contact the content providers to delete copyright contents if any and email us, we'll remove relevant links or contents immediately.