Jesus of Nazareth by Joseph Ratzinger
Author:Joseph Ratzinger [Ratzinger, Joseph] , Date: November 11, 2014 ,Views: 1052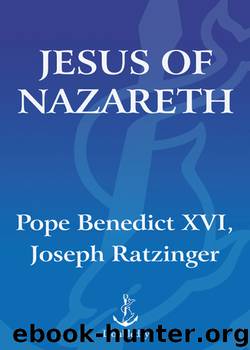 Author:Joseph Ratzinger [Ratzinger, Joseph]
Language: eng
Format: epub, azw3, mobi
Publisher: The Doubleday Religious Publishing Group
Published: 2011-04-07T01:45:14+00:00



CHAPTER SEVEN
The Message of the Parables
THE NATURE AND PURPOSE OF THE PARABLES
There is no doubt that the parables constitute the heart of Jesus' preaching. While civilizations have come and gone, these stories continue to touch us anew with their freshness and their humanity. Joachim Jeremias, who wrote a fundamental book about Jesus' parables, has rightly pointed out that comparison of Jesus' parables with Pauline similitudes or rabbinical parables reveals "a definite personal character, a unique clarity and simplicity, a matchless mastery of construction" (The Parables of Jesus, p. 12). Here we have a very immediate sense—partly because of the originality of the language, in which the Aramaic text shines through—of closeness to Jesus as he lived and taught. At the same time, though, we find ourselves in the same situation as Jesus' contemporaries and even his disciples: We need to ask him again and again what he wants to say to us in each of the parables (cf. Mk 4:10). The struggle to understand the parables correctly is ever present throughout the history of the Church. Even historical-critical exegesis has repeatedly had to correct itself and cannot give us any definitive information.
One of the great masters of critical exegesis, Adolf Jülicher, published a two-volume work on Jesus' parables (Die Gleichnisreden Jesu, 1899; 2nd ed. 1910) that inaugurated a new phase in their interpretation, in which it seemed as if the definitive formula had been found for explaining them. Jülicher begins by emphasizing the radical difference between allegory and parable: Allegory had evolved in Hellenistic culture as a method for interpreting ancient authoritative religious texts that were no longer acceptable as they stood. Their statements were now explained as figures intended to veil a mysterious content hidden behind the literal meaning. This made it possible to understand the language of the texts as metaphorical discourse; when explained passage by passage and step by step, they were meant to be seen as figurative representations of the philosophical opinion that now emerged as the real content of the text. In Jesus' environment, allegory was the most common way of using textual images; it therefore seemed obvious to interpret the parables as allegories on this pattern. The Gospels themselves repeatedly place allegorical interpretations of parables on Jesus' lips, for example, concerning the parable of the sower, whose seed falls by the wayside, on rocky ground, among the thorns, or else on fruitful soil (Mk 4:1–20). Jülicher, for his part, sharply distinguished Jesus' parables from allegory; rather than allegory, he said, they are a piece of real life intended to communicate one idea, understood in the broadest possible sense—a single "salient point." The allegorical interpretations placed on Jesus' lips are regarded as later additions that already reflect a degree of misunderstanding.
In itself, Jülicher's basic idea of the distinction between parable and allegory is correct, and it was immediately adopted by scholars everywhere. Yet gradually the limitations of his theories began to emerge. Although the contrast between the parables and allegory is legitimate as such, the radical separation of them cannot be justified on either historical or textual grounds.
Download


Copyright Disclaimer:
This site does not store any files on its server. We only index and link to content provided by other sites. Please contact the content providers to delete copyright contents if any and email us, we'll remove relevant links or contents immediately.