Called to Life by Jacques Philippe
Author:Jacques Philippe [Philippe, Jacques] , Date: January 22, 2018 ,Views: 1045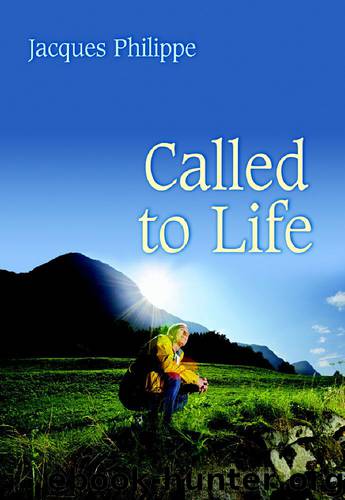 Author:Jacques Philippe [Philippe, Jacques]
Language: eng
Format: mobi, epub
ISBN: 9781594170942
Publisher: Scepter Publishers
Published: 2010-07-08T04:00:00+00:00



Whatever you wish that men would do to you, do so to them; for this is the law and the prophets (Mt 7:12).
True and False Responses
The answer to the question "What call is the situation addressing to me?" does not exist before the situation exists. It is not a ready-made response or a kind of psychological projection. It is similar to grace; it is like a gift. It comes in the opening of the heart and the beginning of prayer. Often one finds it in the encounter with the Word of God, and often it has the unexpected newness that is the mark of the Spirit. It gives peace and liberates.
Often one's pre-existing responses have little to do with God's true call. They reflect one's habitual way of thinking, the coping strategies one has grown accustomed to. At first they may seem very spiritual and edifying. But they are not the will of God. To hear the true call of the Spirit, one must know one's self and listen to others who often see things more clearly. Then we generally detect pretty quickly what comes from God and what comes from the "flesh," as Paul calls it—which might also be called the wounded psyche.
It may be one's habit to blame oneself for life's problems. Or to blame others. Or to think one must be heroic in a way that God doesn't ask. A person may have a fear of weakness, believing that he or she must always be strong. Some of us are in denial; some are always taking flight. These are paths that lead to rigidity, worry, and tension.
The responses that come from the Spirit are different. They are in harmony with the Word of God; they have the flavor of evangelical sweetness, of humility and peace, a note of simplicity and realism. They are also characterized by freshness and newness, and give rise to confidence. Although it sometimes takes courage to accept them, they are not restrictive in nature, not imposed from the outside, but are part of an interior dynamism that respects freedom. They lead us out of our repetitious scenarios and produce true changes. They produce a renewal in our lives that can only come from God.
The grace that St. Thérèse of Lisieux received at Christmas in 1886 is a powerful example.8 She was fourteen then, and she could not have taken up her vocation to Carmel without it. Sometimes she speaks of it as a grace of conversion and sometimes a grace of healing.
At the time, Thérèse had an immense love of Jesus and a very authentic spiritual life, along with a great deal of emotional immaturity. She was hypersensitive, shed tears for no reason, exaggerated her need for the attention and approval of her family. After Midnight Mass it was time for the traditional opening of presents. Thérèse had gone upstairs to take off her hat. Her father, Mr. Martin, sleepy and no doubt tired of treating his youngest daughter as a child, expressed
Download


Copyright Disclaimer:
This site does not store any files on its server. We only index and link to content provided by other sites. Please contact the content providers to delete copyright contents if any and email us, we'll remove relevant links or contents immediately.