Augustine: Conversions to Confessions by Robin Lane Fox
Author:Robin Lane Fox [Fox, Robin Lane] , Date: January 28, 2018 ,Views: 1337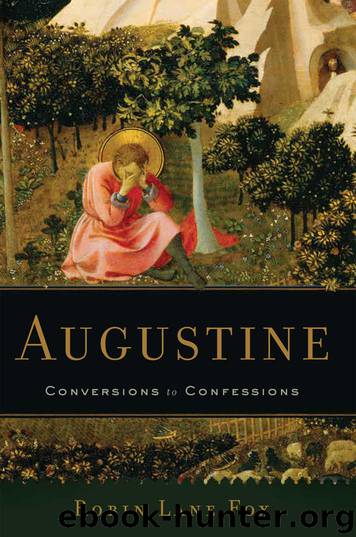 Author:Robin Lane Fox [Fox, Robin Lane]
Language: eng
Format: epub
Tags: Biography & Autobiography, Religious, History, Medieval, Religion, Christianity
ISBN: 9780465022274
Google: mfcqCgAAQBAJ
Amazon: 0465022278
Publisher: Basic Books
Published: 2015-11-03T02:00:00+00:00



24
Augustine With Augustine
I
Soon after recovering, Augustine embarked on the first original project in his career: he wrote a text for which he coined a new name, 'Soliloquies'. In it, he argued at length with a new dialogue partner: his own reason. It began, he tells us, when he was suddenly 'admonished', a word which reminds us again of his admonishment in the garden. Such promptings seem ultimately to be divine for him, although Augustine cannot decide if this one came from without or within.1 We cannot decide for him, but the general point remains: his soliloquies, he believed, were prompted by God.
They were not so new or odd as they may seem. For some while Augustine had had a habit of going over matters with himself alone. In the Confessions, he presents himself as debating questions with himself after the death of his friend in Thagaste or before writing The Beautiful and Apt or when hesitating in the garden about giving up sex. In the villa he had already had plenty of time to do likewise, 'searching ceaselessly and intently', he tells us, 'for my own self and my good and what evil is to be avoided'.2 Interior monologues remain a lifelong feature of his writings. Remarkably, this one is presented as a masterclass between himself and his own Reason, lasting two days.
One or two of the famous Greek philosophers were said to have argued only with themselves, but the implication of these stories was that their behaviour was very odd. Augustine would probably not have known that in some of his Greek dialogues Plato had recommended discussing questions with one's own soul.3 The reason for Augustine's innovation lay in his circumstances. He wanted to engage with questions which were much too hard for the only partners around him, his mother and the boys. In Latin, philosophy was conventionally presented in dialogue, and if Augustine wanted a dialogue, he had to argue the questions with the only partner available: himself. The questions are indeed difficult, especially those about 'imagination', illusion and truth.4 They proceed by attempts at deductive argument and, like the boys in the dialogues, Augustine falters at times before Reason's relentless attack, what Licentius had well called the 'cold shower' of dialectics. There was another advantage to his new genre. A soliloquy caused none of the combative aggression and hurt feelings which arise in arguments between competitors. In the garden Augustine had recently read Paul's words denouncing 'quarrelling and jealousy'. In his poor state of health he was too sensitive, he recalls, to bear such tussles.5 In a soliloquy he would battle only with himself.
At the very beginning, he presents his Reason as telling him not to dictate their debates: they are too intimate. They must be written down by Augustine personally. More than two centuries earlier, the pagan Emperor Marcus Aurelius had also compiled a personal text, one which was entitled in its early manuscripts To Himself. Nowadays we know it as The Meditations and, probably, Marcus himself wrote it down.
Download


Copyright Disclaimer:
This site does not store any files on its server. We only index and link to content provided by other sites. Please contact the content providers to delete copyright contents if any and email us, we'll remove relevant links or contents immediately.