Introduction to the study and practice of law in a nutshell by Kenney F. Hegland
Author:Kenney F. Hegland , Date: April 13, 2018 ,Views: 776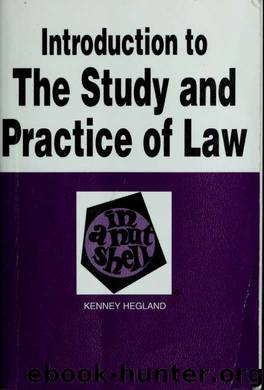 Author:Kenney F. Hegland
Language: eng
Format: epub
Tags: Law -- Study and teaching -- United States., Practice of law -- United States.
Publisher: West Pub. Co.
Published: 1995-04-13T04:00:00+00:00



The purpose of voir dire is to impanel a jury which will render a fair verdict. Each side can challenge potential jurors for cause and each has a limited number of preemptory challenges —those are exercised when the lawyer feels, for whatever reason, it would be best not to have the person on the jury. However, under recent Supreme Court decisions, preemptory challenges cannot be used to systematically exclude individuals based on race or sex.
2. Plaintiffs opening statement. Opening statements relate what will be proven and how it will be proven. "We will then call Dr. Dread, who is not a doctor but plays one on TV. He examined the plaintiff shortly after the accident. He will testify as to her injuries and as to the great pain she was in."
3. Defendant's opening statement.
4. Plaintiffs case-in-chief Plaintiff presents the evidence needed to make out the case. In a typical personal injury case, the following elements must be proved.
a. That the defendant was negligent
b. That the negligence caused plaintiffs injuries
c. The extent of those injuries
The evidence can consist of exhibits (X-rays showing plaintiffs broken bones, photographs of the victim's injuries and toes, fingers and other body parts), documents (doctor bills) and, of course, witnesses, including expert witnesses. When
Download


Copyright Disclaimer:
This site does not store any files on its server. We only index and link to content provided by other sites. Please contact the content providers to delete copyright contents if any and email us, we'll remove relevant links or contents immediately.