In Order to Live: A North Korean Girl's Journey to Freedom by Yeonmi Park
Author:Yeonmi Park [Park, Yeonmi] , Date: October 14, 2015 ,Views: 1777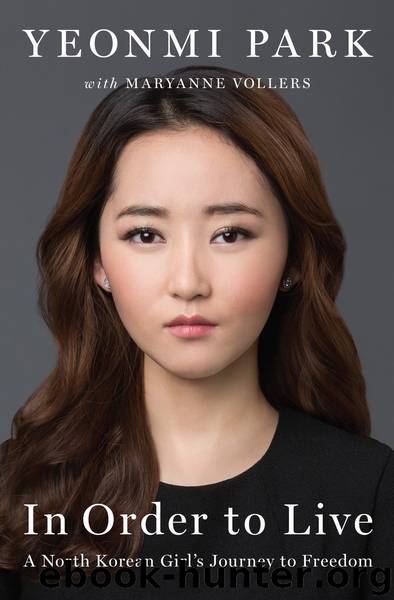 Author:Yeonmi Park [Park, Yeonmi]
Language: eng
Format: mobi
Tags: Biography & Autobiography, Personal Memoirs
ISBN: 9780241973042
Google: kVPBBwAAQBAJ
Publisher: Penguin UK
Published: 2015-09-28T11:00:00+00:00



Thirteen
A Deal with the Devil
My mother had been gone for only three days when Zhifang tried to rape me.
His apartment was laid out with two bedrooms separated by a hallway. I was sleeping by myself across the hall from Zhifang and Young Sun when he crawled into my bed in the dark. He smelled of alcohol and his hands were rough when he grabbed me. I was so shocked that I started kicking him and struggling out of his grip.
"Quiet!" he whispered. "You'll wake her up!"
"If you don't let me go I'll scream!" I said. So he reluctantly left me alone and went back to his sleeping girlfriend.
A couple of days later, he tried it again. This time he gave Young Sun a lot of alcohol until she was passed out drunk, and then he came to my bedroom in the middle of the night. Again I fought him off by kicking and screaming and biting. I thought the only way to save myself was to act like a crazy person. I was so wild that he knew he would have to damage me badly or even kill me to finish what he started. And then I would have no value. So he gave up.
"Fine," he said. "But you can't stay in this house anymore. I'll sell you to a farmer."
"All right," I said. "Then sell me."
A few days later, the man who had bought and sold my mother returned to take me away.
• • •
Hongwei was not his real name, but then he lied about everything. He told me he was twenty-six, but he was actually thirty-two years old. He didn't know my real age because the fat broker Zhifang had told him I was sixteen. Nobody told the truth.
I was trying to learn Chinese, but I could understand very little. And Hongwei could communicate with me only in gestures. He took me to a Chinese restaurant for breakfast before our long journey. But I was so terrified that my hands were shaking. Every broker I had met in China had wanted to rape me, and I assumed this one was no different. Hongwei kept gesturing for me to eat, but I couldn't. Even though I was still skinny and malnourished, I no longer had an appetite. Food was the reason I had come to China, and now the thought of it made me sick.
We took a series of buses to Hongwei's home territory, which stretched from the ancient city of Chaoyang to the bustling port of Jinzhou. The buses made frequent stops, and at one of them a vendor came on board to sell ice cream to the passengers. Hongwei bought one for me. I hadn't eaten for a long time, and suddenly my appetite returned. I couldn't believe how something could be that delicious. I ate the whole thing and even kept eating it in my mind when it was finished.
That night we stayed at an inn in a small town outside Jinzhou. By the time we arrived that evening, I was again too upset to eat anything.
Download


Copyright Disclaimer:
This site does not store any files on its server. We only index and link to content provided by other sites. Please contact the content providers to delete copyright contents if any and email us, we'll remove relevant links or contents immediately.