Batik by Rudolf Smend
Author:Rudolf Smend , Date: September 14, 2016 ,Views: 1464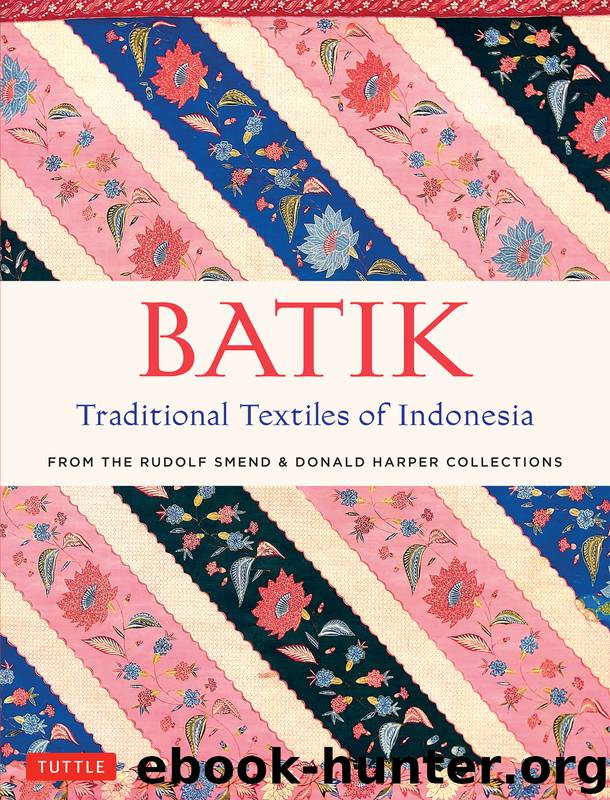 Author:Rudolf Smend
Language: eng
Format: epub
ISBN: 978-0-8048-4643-1
Publisher: Tuttle Publishing



Batik: Fabled Cloth of Java
Inger McCabe Elliott
For much of my professional life I saw the world in black and white. Buddhists and Catholics killing each other in the streets of Saigon— black and white. Ulanova and Plisetskaya in performance at the Bolshoi Ballet—black and white. Marlon Brando on a Mekong steamer— black and white. Lithuanian survivors of World War II—black and white. I was a photojournalist and those were my primary colors.
Then one day my black and white world exploded into glorious color. It happened in a tiny, nondescript shop in Hong Kong, that moment when the splendors of Java's north coast batik burst upon me. It was an epiphany of sorts, the revelation of a textile cosmos where lions ferociously roar, ducks serenely paddle, mythical animals defy gravity and surreal flowers unfurl their brilliant petals. The batik artists of Java's north coast splashed their colors with uncontrolled abandon.
Entranced by what I first glimpsed in that Hong Kong shop, I set out to unravel the mystery of batik. Before long, I was traveling the length of coastal Java working with local Javanese, Chinese and Arab batik artists, helping them design new patterns, rearranging old ones, mixing colors never before used in batik and demonstrating that it was possible to produce batik in lengths of 32 yards, long enough to be used not just for clothing but for upholstery and drapery as well. Later, my company China Seas Inc. helped open new markets for batik in Europe, the US, Asia and even Latin America.
At first timidly, and then with increasing confidence, I began buying batik that seemed unusual. I used my eyes. Did a particular batik resemble another in color, design and technique? Chances were that they both came from the same region, the same town, the same period and, quite likely, the same artist.
During this long and often arduous search, I traveled to four continents, crawled through cobwebbed attics, slogged through slithering mud and battled flying cockroaches. I was apprehended by armed police when I arrived un announced at a remote village. I pestered scholars and friends alike in the hope of collecting and showing what had never been seen before, drawing on my training as an aspiring historian. Gradually, I put most of the textiles into what seemed to me to be an appropriate cultural, geographic and historic context.
Java has been at a crossroads of trade for hundreds of years thanks to its location near routes sailed by Marco Polo, Ferdinand Magellan, Sir Francis Drake and St Francis Xavier. Trade brought with it a succession of religions and waves of colonization. Indonesia's motto, "Unity in Diversity", easily describes the wonders of its cloth. The predominant religion is Islam, while its architecture is a mixture of Dutch colonial and petrodollar kitsch, its middle class is Chinese and its lingua franca is Bahasa Indonesia. Each of these influences can be found in the many-splendored batik of Java's north coast.
Batik: Fabled Cloth of Java was conceived more than five decades ago from many collections, including my own.
Download


Copyright Disclaimer:
This site does not store any files on its server. We only index and link to content provided by other sites. Please contact the content providers to delete copyright contents if any and email us, we'll remove relevant links or contents immediately.