POP by Steven Heller
Author:Steven Heller , Date: July 20, 2015 ,Views: 2708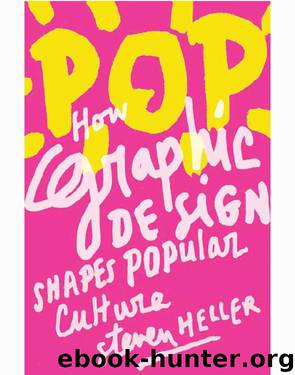 Author:Steven Heller
Language: eng
Format: epub
Publisher: Allworth Press



Topanga,
We Hardly Knew Ya
True happiness is being skinny, but it comes at a price. Being a design snob, I've always wondered why anyone with taste would pay thousands of dollars to publish one of those text-heavy, type-awful, full-page magazine advertisements void of any semblance of graphic design nuance or sophistication. In other words, an ad so terribly designed the word "design" is irrelevant. Then again, who would take the time to read a 2,000 word promotional screed set in monotonous body type, full of hyped-up assertions couched in moldy clichés? Well, now I know at least part of the answer. I am that reader. And those advertisers must bank on the fact that design is indeed irrelevant when the sales message is its own virtue. Maybe they are right.
I came across such a full-page specimen in a recent issue of the New York Times Magazine, opposite a page on which were the final runover paragraphs of a fascinating article on Todd Haynes' biopic inspired but not about Bob Dylan, titled I'm Not There. Having reached the end of the article, and ready to close my eyes for a short catnap, I saw the following headline: "The pressure to be thin in Hollywood is huge! And boy, did I feel it." Such announcements are usually typographic white noise, but when my eyes focused on the typical "before" and "after" pictures, I was hooked.
There was a small but incredibly sexy studio photograph of a woman wearing a bikini overlapping a bleached-out snapshot of her enormous previous incarnation. Although ordinarily not worth an additional iota of attention, this girl, it turned out, was 26-year-old actress Danielle Fishel, who from 1993 to 2000 played Topanga Lawrence on the amusing sit-com Boy Meets World. Over the years she grew increasingly more sensual evolving from tween to teen. It was one of my then young son's favorite shows, which I dutifully sat through to monitor his intake of mass media. Now I (gladly) admit that watching her develop over the course of many seasons was not a burden. Once Boy Meets World was off the air, however, Topanga left my consciousness, until the Sunday I stumbled upon the advertisement for NutriSystem's Glycemic Advantage. By any standards it was a poorly designed ad, but nonetheless very effective. Design snobbery has its place, yet good design I have learned is often irrelevant in the pursuit of an audience.
I wasn't even in the market for a dietary program, but I was intrigued enough by the come-on to read every last sentence presumably written in Ms. Fishel's own words. "I have been an actress most of my life," she states in the first paragraph. "I love doing it. So when Boy Meets World went off the air, I really was looking forward to continuing my career. But my weight got in the way." Poorly letter-spaced and forcedjustification of default typefaces notwithstanding, I was hooked.
"Look," she continues as though in a direct conversation with me. "I knew that it was my job as an actress to look my best.
Download


Copyright Disclaimer:
This site does not store any files on its server. We only index and link to content provided by other sites. Please contact the content providers to delete copyright contents if any and email us, we'll remove relevant links or contents immediately.