The Wardrobe Wakeup by Lois Joy Johnson
Author:Lois Joy Johnson , Date: December 18, 2017 ,Views: 2037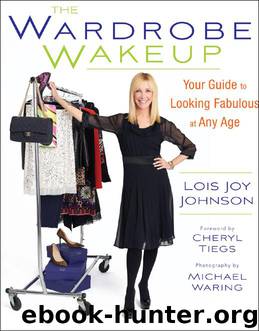 Author:Lois Joy Johnson
Language: eng
Format: mobi
ISBN: 9780762446926
Publisher: Running Press
Published: 0101-01-01T00:00:00+00:00



5. DO A GOOD TEMPORARY HEM.
Have you ever snagged a skirt hem getting out of the car, caught a pant hems on the heel of your shoe, or just wanted to quickly take up new jeans an inch for an evening out?
If you simply can't wait to get to the tailor (and hate ironing as I much as I do) simply tuck the fabric in place and apply a strong adhesive tape to keep it there.
Tape is preferable to pins or staples but I find ordinary office and masking tape too wimpy. Electrical tape that is stretchy and vinyl-coated or gaffer's tape (a matte finish vinyl coated cloth tape used in film studios) are sturdier and hold for the entire day or evening. They both remove without any residue. I always have rolls of these tapes around the house and in my styling kit but Hollywood Temporary Hem Tape comes in strips to make hem maintenance easy. I keep that in my car and desk.
6. MAKE A BELT WHEN YOU DON'T HAVE ONE.
Ribbons and scarves make effective stand-ins for belts. Keep a roll of thick black matte grosgrain ribbon or a black velvet tubular cord (available on ribbon and trimmings sites). Cut to triple your waist size to leave room for a generous bow. It looks feminine and sharp at the same time. Silk scarves can double as waist defining belts. Simply fold a large silky print scarf into a long, narrow shape (as in the scarf necklace technique on page 152) and knot at the waist or through the loops of your jeans.
7. TIE A SARONG, AND GET IN AND OUT OF A POOL.
Every woman needs to know how to wrap a sarong without adding excess bulk and width at the waist and hips. Badly wrapped pareos are a habit some women start making in their twenties and never change. Lose the towel!
The secret is to always start off with a non-slip cotton fabric that is soft, matte, and lightweight. The lighter the better because it is easier to drape and tie.
A print is best since it adds extra opacity and blurs bulges. Start by holding the sarong squarely behind you at waist level. Grab the top edge of the fabric on either side about twelve inches from your waist rather than at the ends. Knot these "fingers" of grabbed fabric in front at the waist or just slightly below—not at the hips. The excess ends of the fabric will be dangling. Take one dangling corner and bring it across your tummy. Tuck it into the waistband you have created. Let the other end fall free in graceful folds. This is so much better than swaddling your suit with a towel! Walk to the edge of the pool. Sit on the side, legs over the edge, and unknot the pareo just before sliding in. When you get out, grab the pareo and tie it as you exit by the stairs.
8. TURN A SWEATER INTO A LAST-MINUTE WRAP SKIRT.
I sort of learned this trick from Donna Karan.
Download


Copyright Disclaimer:
This site does not store any files on its server. We only index and link to content provided by other sites. Please contact the content providers to delete copyright contents if any and email us, we'll remove relevant links or contents immediately.