Imitation and Creativity in Japanese Arts: From Kishida Ryusei to Miyazaki Hayao (Asia Perspectives: History, Society, and Culture) by Michael Lucken
Author:Michael Lucken [Lucken, Michael] , Date: August 2, 2020 ,Views: 16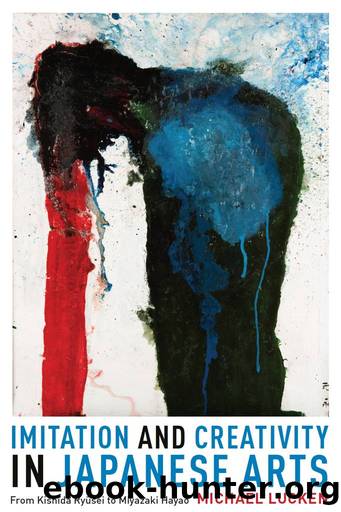 Author:Michael Lucken [Lucken, Michael]
Language: eng
Format: azw3
Tags: ART019000, HISTORY / Asia / Japan, ART / Asian, HIS021000, luck17292
Publisher: Columbia University Press
Published: 2016-02-01T16:00:00+00:00



FIGURE 16 Watanabe with the doctor. Kurosawa Akira, Ikiru, 1952. (Tōhō Studios, Tokyo)
FIGURE 17 Watanabe with his son, Mitsuo. Kurosawa Akira, Ikiru, 1952. (Tōhō Studios, Tokyo)
The third character that Watanabe meets is a novelist, a figure inspired by the idea of the shunned artist, resuscitated after the war by writers such as Oda Sakunosuke, who died in 1947. Unlike in the previous two cases, a channel of communication gets established between the two men. Spurred by alcohol, Watanabe confides in his interlocutor. The writer takes an interest in his story, encourages him to make the most of life, and takes him to a series of nightclubs. But the men are operating under a misunderstanding. In the writer's eyes, Watanabe's pain is potential novel material; it is "interesting," he says, and "makes him think" of what it means to be a novelist. The thoughts he has are on the aesthetic plane. "It is true that there is something beautiful in unhappiness. That is where man finds truth. . . . Having stomach cancer opens your eyes to your existence. Man is a frivolous creature. It is only when he comes face-to-face with death that he realizes how beautiful life is," he explains in a scene where the two men's postures highlight the discrepancy of their outlooks.53 The writer frames his thoughts from a theoretical perspective without considering Watanabe's pain. As the evening progresses, the men stop being able to talk to each other, a silence that makes for a stark contrast with the effervescence that surrounds them (figure 18). The attempt at Romantic identification between Watanabe and the figure of the shunned artist ends in failure. Neither literary images nor material pleasures are of any help to Watanabe in escaping from himself.
His series of meetings with the young office worker Tōyō, which conclude the end of the first part, have a similar outcome. But the direction is reversed, as Yoshimoto notes: "Watanabe repeats the writer's mistake, for whom he was just a fictional character."54 The ailing old man sees the young woman as just a fount of youth, without seeing that she is artful, naive, and proud enough not to want to look poor and unhappy. He considers her like a mythological female figure, both maternal and erotic, into whom he would like to dissolve. The touching and yet repulsive scene in which he leans eagerly toward her crystallizes his desire to escape from himself and melt into the feminine image (figure 19). Nonetheless, Tōyō is not exactly on the same continuum as the others, as her distinctive voice immediately signals. Although she cannot take on Watanabe's distress, she provides him with a model—the mechanical rabbit—that puts a positive spin on the repetitive nature of both work and life.
Download


Copyright Disclaimer:
This site does not store any files on its server. We only index and link to content provided by other sites. Please contact the content providers to delete copyright contents if any and email us, we'll remove relevant links or contents immediately.