How to Be a High School Superstar: A Revolutionary Plan to Get into College by Standing Out (Without Burning Out)
Author:Cal Newport , Date: March 10, 2015 ,Views: 1106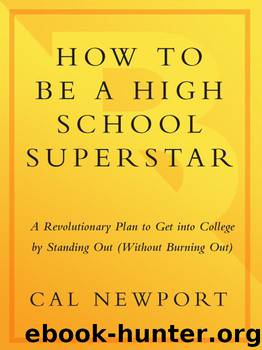 Author:Cal Newport
Language: eng
Format: mobi
ISBN: 9780307715814
Publisher: Broadway Books
Published: 2010-09-03T22:00:00+00:00



7
The Superstar Effect
THE HIGHLIGHT of the 2008 season of the Metropolitan Opera in New York was its production of Gaetano Donizetti's La Fille du Régiment. Among professional opera singers, Donizetti's work is known as the Mount Everest of opera. This reputation is due, almost entirely, to an especially devilish aria, "Ah! Mes amis, quel jour de fête," written for the tenor role of Tonis. The aria arrives early in the performance, before the singer has time to fully warm his vocal cords, and makes a near-impossible demand: hitting nine high Cs in a row, the final note held in a long, punishing sustain. The difficulty of this feat cannot be overestimated. "The alluring note has made and ended operatic careers," noted a critic for the New York Times, "and [has] even helped drive one star to suicide." Not surprisingly, most tenors, when faced with this Mount Everest aria, default to the far easier natural C.
It was for all of these reasons that when tenor Juan Diego Flórez nailed the high C nine times in a row during his 2008 performance at the Met, the feat made international news. The acclaim for Flórez's performance was so intense that the Met reversed its informal ban on encores, allowing Flórez to feed the crowd's desire for more. The audience kept clapping until he sang the aria one more time.
Opera singers, among their other eccentricities, are notoriously private about money. We can estimate from indirect sources, however, that a top singer at a top venue, such as the Met, likely makes in the tens of thousands of dollars per performance. This income is supplemented by CD sales. While few classical CDs become true blockbusters, winning an industry award can ensure a healthy flow of royalty payments. A talent like Flórez, therefore, likely makes a very comfortable, though probably not lavish, living as a professional singer.
But then there are the superstars. In 1972, thirty-six years before Florez's acclaimed performance, a young tenor by the name of Luciano Pavarotti sang the role of Tonis in La Fille du Régiment. The power of Pavarotti's high Cs in this performance was stunning. Terry Teachout, drama critic for the Wall Street Journal, has called them "sunlit." The audience at the Met demanded a record seventeen curtain calls—making Florez's acclaim seem mild by comparison. Soon after the performance, opera buffs began to call Pavarotti the King of the High Cs. He became a superstar performer, selling out stadiums and earning a worldwide following.
Pavarotti's voice was better than Flórez's. Writing about Flórez's 2008 performance of La Fille, for example, the New York Times critic noted: "If truth be told, it's not as hard as it sounds for a tenor with a light lyric voice like Mr. Flórez to toss off those high Cs.… [In] the early 1970's, when Luciano Pavarotti … let those high Cs ring out, that was truly astonishing." But this advantage of Pavarotti over Flórez could be considered slight, since few singers can hit those notes at all.
Download


Copyright Disclaimer:
This site does not store any files on its server. We only index and link to content provided by other sites. Please contact the content providers to delete copyright contents if any and email us, we'll remove relevant links or contents immediately.