Grow Great Vegetables in North Carolina by Ira Wallace
Author:Ira Wallace , Date: April 16, 2020 ,Views: 282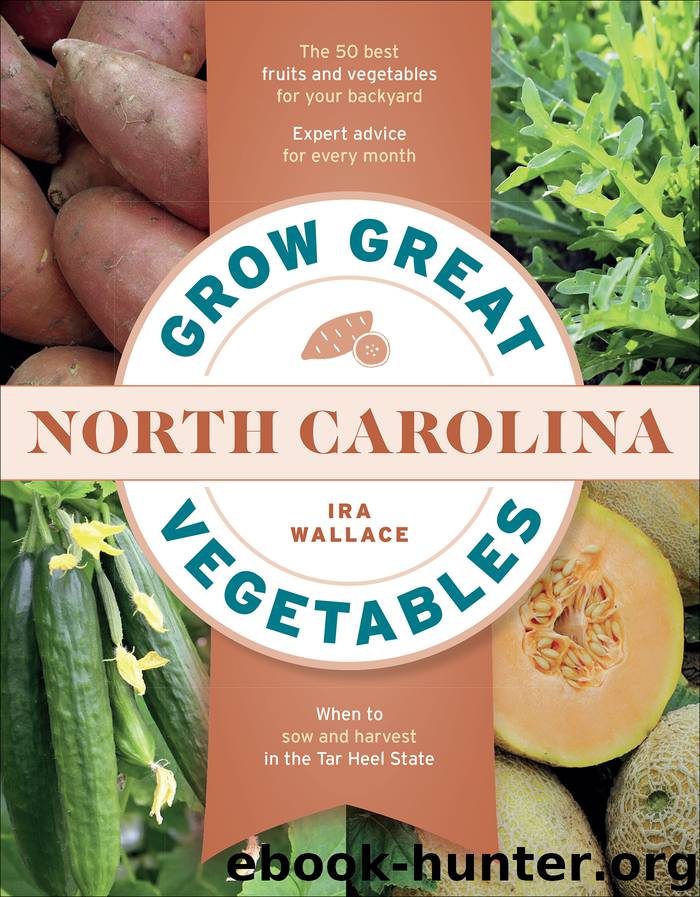 Author:Ira Wallace
Language: eng
Format: epub
Publisher: Timber Press
Published: 2020-04-15T00:00:00+00:00



Planting the Winter Garden
We continue to plant the fall garden started in our shaded seedling beds at midsummer. We fill empty space in our beds this month so that we can harvest straight through until spring. Time to nestle in those last transplants, set up the cold frame, and lay out the row covers planned for the overwintered lettuce and greens.
When night temperatures are cool enough that you aren't sweating without the help of a fan or air conditioning, it is time to speed up your planting for the fall and overwintered garden. Gardeners all over North Carolina should be figuring out how much of the cold-hardy crops they would like to eat during the winter and planning to get everything they haven't already planted in the ground soon. We are working against the shortening days and cooling temperatures of fall.
Get out a notepad and start your calculations. List the vegetables you want to harvest each week until spring. Determine how much is needed for how many times you will serve this crop each week. This will give you an estimate of how much you should be growing. The challenge now is to get all those plants in the ground as soon as possible so that they take advantage of the remaining warm days of fall. One thing that is in your favor is the ease of transplanting in fall. Use transplants liberally so you get that extra week or two of growth.
Keep these ideas in mind as you finish your fall planting:
Give fall transplants extra time. They will start off fast with the soil still warm from summer, but as the days get cooler, growth will slow and then stop. You need to get that "living refrigerator" full of well-grown plants if you want to harvest all winter.
Plant in well-drained soil. Plants die in waterlogged soil because their roots cannot breathe. The combination of heavy winter rains and chilly temperatures that slow the rate that soil moisture evaporates can be disastrous. Reduce the danger by planting winter crops in raised beds in areas with good soil drainage (on high ground if available).
Evaluate. Take a look at any waning summer plantings and replace them with crops likely to do well over the winter.
Intercrop. Use the shade of remaining summer crops to nurture your fall transplants.
Plan for cover. In zone 8 along the coast, there is still time to sow another quick planting of squash and beans. It is best to make these plantings in blocks for easy covering in case of an early frost. A good technique is to locate these new fall plantings near other crops that you'll want to cover, like late tomatoes and peppers (which often have a burst of productivity in early fall when temperatures cool enough for good pollination).
Plant and transplant. Get lots of seed for the winter greens and roots that you would like to eat in the ground now. Fall in most of North Carolina is a long, lazy affair. So planting plenty
Download


Copyright Disclaimer:
This site does not store any files on its server. We only index and link to content provided by other sites. Please contact the content providers to delete copyright contents if any and email us, we'll remove relevant links or contents immediately.