Grow & Cook by Mark Diacono
Author:Mark Diacono , Date: June 29, 2020 ,Views: 230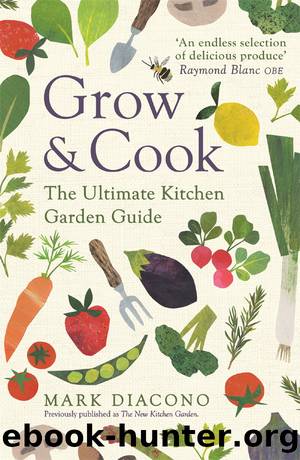 Author:Mark Diacono
Language: eng
Format: epub
Publisher: Headline Publisher



APRICOTS
Prunus armeniaca. Deciduous tree.
A home-grown apricot is a fine thing – it may not have the shoe-splattering juiciness of a peach perhaps, but it has a depth of flavour and richness which comes only with apricots that are separated from the tree when absolutely at their ripe peak. They need sun and shelter to be at their best.
VARIETIES: 'Flavourcot'® and 'Tomcot' are delicious, or try 'Moorpark' for a later variety. Try an older variety such as 'Bredase', or 'Aprigold' for a dwarf variety. Self-fertile.
STARTING OFF: Source grafted trees as maidens, 2- and 3-year-old bushes, or as trained forms.
POSITION: Sunny and sheltered in a deep soil that is moisture retentive and with good drainage.
SPACING: Depending on type of rootstock, space up to 4.5m apart.
PRODUCTIVITY/EFFICIENCY: Mature fan-trained trees can give up to 14kg of fruit, and a tree up to 55kg, which is a pretty heavy harvest of a fruit that is usually expensive to buy. Apricots can begin to produce in their second year.
GROWING: Thin fruits if crowded to allow remaining ones to get to a larger size. Give an annual feed of compost of cut comfrey. Cut out diseased and dead wood during the growing season between May and September.
POTENTIAL PROBLEMS: Choose later-flowering varieties to avoid late frosts damaging apricot flowers, or plant against a sunny, south-facing wall. Newer varieties (such as 'Flavourcot'®) are less susceptible to bacterial canker. Pruning in midsummer helps minimise the risk of bacterial canker and silver leaf: any affected areas should be cut out and incinerated.
HARVEST: Between July and September. Pick when fruits are just tender, aromatic and when they separate easily from the tree with only the slightest persuasion.
Download


Copyright Disclaimer:
This site does not store any files on its server. We only index and link to content provided by other sites. Please contact the content providers to delete copyright contents if any and email us, we'll remove relevant links or contents immediately.