Free To Love by Ali Spooner & Annette Mori
Author:Ali Spooner & Annette Mori [Spooner, Ali & Mori, Annette] , Date: January 14, 2021 ,Views: 24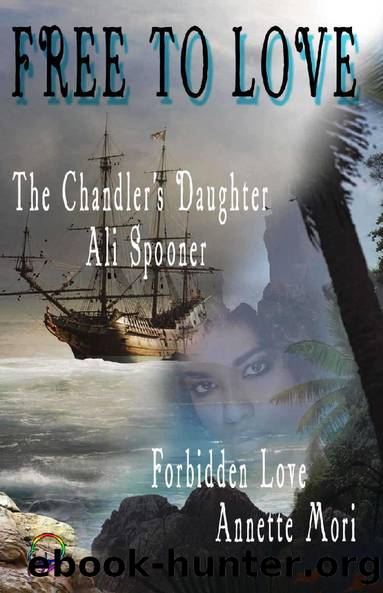 Author:Ali Spooner & Annette Mori [Spooner, Ali & Mori, Annette]
Language: eng
Format: epub
Publisher: Affinity Rainbow Publications
Published: 2018-03-25T00:00:00+00:00



Chapter Six
The path to the small, ten-acre sugar plantation Elizabeth and her father tried desperately to maintain, was well-worn. Elizabeth noted, with interest, that this path was far easier to travel than the spacious streets close to the harbor. No one seemed to pay much attention to their care. The unpaved streets were overwrought with prickly pear and scrub brush.
The past year had not been prosperous, and they were barely hanging on. Despite Abraham's wise advice, very little of the sugar cane would survive the severe drought and harsh sun.
Elizabeth's father insisted she remain dedicated to her work with the church and not worry about the troubles with their sugar cane crop. Field work was hot and difficult, and he feared her fair skin would burn, even with a large hat to protect her. Despite her efforts to avoid the punishing sun, unsightly freckles dusted along her nose, face, and exposed arms.
That morning, her father had seemed lethargic, almost as if he'd finally decided to give up and move back to England. Elizabeth feared his commitment to the church and to the people of this poor island was waning. She pushed open the heavy wood door of the stone building. Abraham had informed her that her father had not come into the fields yet. That fact alone was unusual.
"Father, Father, I have news."
Kia stood meekly by her side. Elizabeth had led her home by the arm and now gestured for her to sit. Elizabeth went in search of her father and gasped when she realized he remained in his bed, chills ravaging his body.
"Oh, Father, why didn't you tell me you'd fallen ill?"
He lifted his fevered eyes. "I seem to have caught the fever."
Running from her father's bedroom, her eyes darted around, searching for a cloth to wipe his fevered brow. She spotted Kia and was torn between caring for her father and settling her guest. The rags on her body must go, and I need to prepare a meal for the half-starved woman.
Kia must have sensed her despair. She watched Elizabeth carefully, following her to the cistern where she dipped the cloth into the cool water. Elizabeth ran back inside, pressing the piece of cotton against her father's forehead.
So immersed in caring for her father, Elizabeth didn't register Kia's absence until she heard rustling in the main living area. The deep rumbling of Abraham's voice caught her attention, and she gathered her skirts and reluctantly left her father's bedside.
"Miss Allen, Kia has come to get me. She recognized the fever but doesn't know about the native plants to help soothe Mr. Allen. With your permission, I will teach her. We will bring back a tea for him to drink." His eyes revealed his sadness. "It is in God's hands now."
She returned to the sick room and noted his pallid complexion. Elizabeth was not under any illusion her father would recover. Few men of his age and declining health could survive yellow fever. The odds were not in his favor. She gathered his hand in hers and continued to wipe his brow.
Download


Copyright Disclaimer:
This site does not store any files on its server. We only index and link to content provided by other sites. Please contact the content providers to delete copyright contents if any and email us, we'll remove relevant links or contents immediately.