Essays. Second Series by Emerson Ralph Waldo
Author:Emerson, Ralph Waldo , Date: October 6, 2020 ,Views: 583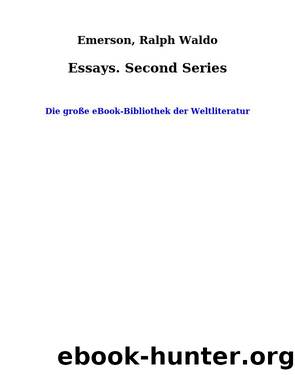 Author:Emerson, Ralph Waldo
Language: eng
Format: epub
Publisher: (Privatkopie)
Published: 2010-02-02T16:00:00+00:00



»As Heaven and Earth are fairer far
Than Chaos and blank Darkness, though once chiefs;
And as we show beyond that Heaven and Earth,
In form and shape compact and beautiful;
So, on our heels a fresh perfection treads;
A power, more strong in beauty, born of us,
And fated to excel us, as we pass
In glory that old Darkness:
–– for, 'tis the eternal law,
That first in beauty shall be first in might.«
Therefore, within the ethnical circle of good society, there is a narrower and higher circle, concentration of its light, and flower of courtesy, to which there is always a tacit appeal of pride and reference, as to its inner and imperial court, the parliament of love and chivalry. And this is constituted of those persons in whom heroic dispositions are native, with the love of beauty, the delight in society, and the power to embellish the passing day. If the individuals who compose the purest circles of aristocracy in Europe, the guarded blood of centuries, should pass in review, in such manner as that we could, at leisure and critically, inspect their behaviour, we might find no gentleman, and no lady: for, although excellent specimens of courtesy and high-breeding would gratify us in the assemblage, in the particulars we should detect offence. Because, elegance comes of no breeding, but of birth. There must be romance of character, or the most fastidious exclusion of impertinences will not avail. It must be genius which takes that direction: it must be not courteous, but courtesy. High behaviour is as rare in fiction as it is in fact. Scott is praised for the fidelity with which he painted the demeanour and conversation of the superior classes. Certainly, kings and queens, nobles and great ladies, had some right to complain of the absurdity that had been put in their mouths, before the days of Waverley; but neither does Scott's dialogue bear criticism. His lords brave each other in smart epigrammatic speeches, but the dialogue is in costume, and does not please on the second reading: it is not warm with life. In Shakspeare alone, the speakers do not strut and bridle, the dialogue is easily great, and he adds to so many titles that of being the best-bred man in England, and in Christendom. Once or twice in a lifetime we are permitted to enjoy the charm of noble manners, in the presence of a man or woman who have no bar in their nature, but whose character emanates freely in their word and gesture. A beautiful form is better than a beautiful face; a beautiful behaviour is better than a beautiful form: it gives a higher pleasure than statues or pictures; it is the finest of the fine arts. A man is but a little thing in the midst of the objects of nature, yet, by the moral quality radiating from his countenance, he may abolish all considerations of magnitude, and in his manners equal the majesty of the world. I have seen an individual, whose manners, though
Download


Copyright Disclaimer:
This site does not store any files on its server. We only index and link to content provided by other sites. Please contact the content providers to delete copyright contents if any and email us, we'll remove relevant links or contents immediately.