Engines of Privilege by David Kynaston
Author:David Kynaston , Date: March 7, 2020 ,Views: 256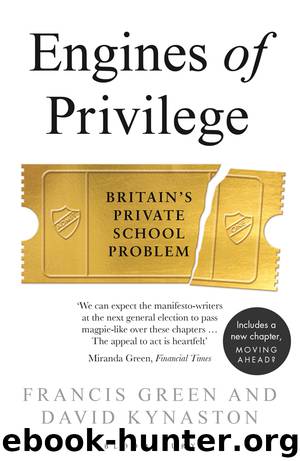 Author:David Kynaston
Language: eng
Format: epub
Publisher: Bloomsbury Publishing



On the Table
Yet, all that said, the heartening counter-fact is that during recent years a fair amount of substantive proposals for reform have been put on the table, unlike in the largely barren 1983–2010 period. Leaving to one side the question of specifically targeted fiscal measures (such as abolition of charitable status and/or imposing VAT on school fees), the rest of this chapter tries to give a sense of what structural approaches have been suggested in relation to private schools in order to make Britain's overall education system less grossly unequal.
Starting at the ambitious end of the spectrum, there are the abolitionists (aka full-scale integrationists), including those who surface every now and then in letters to the left-of-centre press:
Simple answer to the problem of the public school 'Berlin Wall': take it down. Like the monasteries, rich, used to power, doctrinally divisive; dissolve them. Use their endowments to fund the common weal. Done it before, do it again. (Mark Williams, Lewes)
Only the abolition of private schooling and decent state education can bring about genuine equality of opportunity as the most progressive European nations demonstrate. (John Green, London)
The boldest move to build a truly inclusive education system would be to remove the charitable status of private schools, as a first step to abolishing them. Only then will there be enough political will and parental engagement to make the whole system fit for purpose. (Andrew Colley, Halstead, Essex)
We need to abolish private education because it engenders inequalities of income, property ownership and social mobility … Would that any government could summon up the courage to begin the abolition. (Neil Wigglesworth, Forton, Lancashire)65
Download


Copyright Disclaimer:
This site does not store any files on its server. We only index and link to content provided by other sites. Please contact the content providers to delete copyright contents if any and email us, we'll remove relevant links or contents immediately.