Dance or Die by Ahmad Joudeh
Author:Ahmad Joudeh [Joudeh, Ahmad] , Date: September 26, 2021 ,Views: 196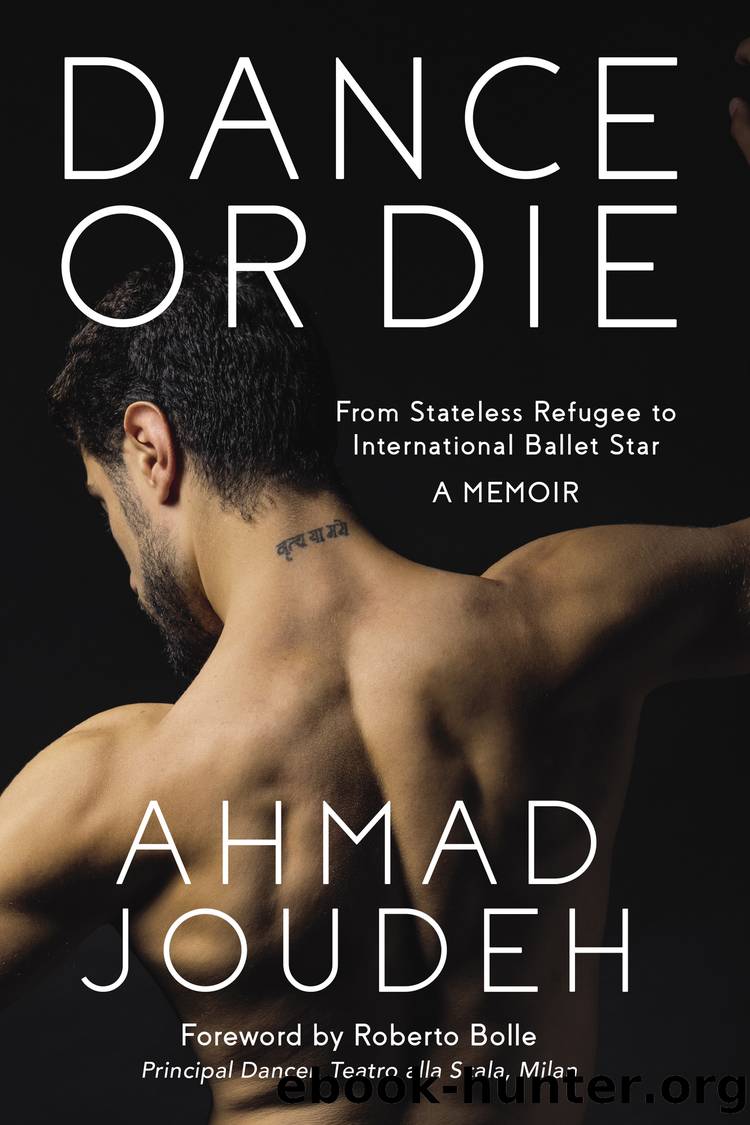 Author:Ahmad Joudeh [Joudeh, Ahmad]
Language: eng
Format: epub
Publisher: Charlesbridge
Published: 2021-09-21T00:00:00+00:00



SEVEN
"LISTEN, IT'S A GREAT idea. Just imagine—you'll meet loads of people, you'll have foreign teachers, you'll learn something new, maybe even have a career…and in any case, even if you don't win, you've got nothing to lose," Saeed said to me.
"No, but you must be kidding. I can't imagine winning…that's not the point," I said.
"So what is the point?"
Saeed looked at me and waited for an answer. But I sat staring at the cup in front of me, stirring the dregs of my coffee with a spoon, hoping that I might see there a clearer image of the tangle in my head. I'd have liked to explain to him why I so desperately wanted to take part in a dance reality show. But there was one problem: to participate in the show, I would have to take a year off from the institute.
Saeed and I were in my room in the apartment where I was living with my mother, my brother, and my sister. It was the summer of 2014. We were discussing the announcement of an audition for a television reality show in Lebanon, an Arabic version of So You Think You Can Dance.
"Perhaps I just want to get out of here, at least for a while," I said.
"But you have every right to want to leave this place; don't feel guilty about that. I've been away, and your mom has too. I mean, we can't all just hang around here waiting for one another, no?"
From the open window came a breeze that carried with it the usual smell of dust and cement. There was also more light than usual, probably because the previous night they had bombed the building in front of ours, so now its shadow no longer reached the window.
"Yes, but why don't you come too? That would really be great; we'd have a fantastic time together!"
"But what use would I be, Ahmad? They're looking for ballet or contemporary dancers—I'm a break-dancer; what would I do for the audition? A Michael Jackson moonwalk?"
"And why not? You're so good at it."
We both laughed. I watched him get up and take our now-empty cups to the sink. He was right, I knew—of the two of us, I was the right one to respond to the advertisement.
"Well, if you can't manage to decide for yourself, then I'll do it for you. As soon as I get home, I'll send you the link for the application."
He gave me a sweet smile, and I saw once again how fond he was of me. Saeed always knew what was right and wrong for me, and the best thing I could do was to trust him. After all, if it weren't for him, I would have been rotting away, together with all those who, like me, couldn't leave or didn't want to. Just waiting. But for what? For a bomb to fall and destroy this building too?
I had to find the strength to break away from the sick reality that surrounded me. I
Download


Copyright Disclaimer:
This site does not store any files on its server. We only index and link to content provided by other sites. Please contact the content providers to delete copyright contents if any and email us, we'll remove relevant links or contents immediately.