Daddy Cool by Darleen Bungey
Author:Darleen Bungey , Date: June 29, 2020 ,Views: 177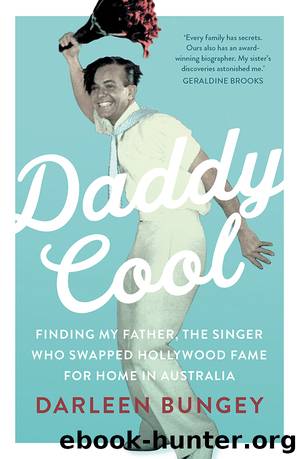 Author:Darleen Bungey
Language: eng
Format: epub
Publisher: Allen & Unwin
Published: 2020-03-25T00:00:00+00:00



IN JANUARY 1946, LAWRIE Brooks, fresh out of the army and the newest jewel in the crown of the Colgate-Palmolive Radio Unit, was given an appointment with Miss Gloria van Boss. That day, as he reached across the desk to shake her outstretched hand, he had little idea that he was being hauled to safety.
'Come on in, sit down', my mother would call from her office to the comedians, musicians, comperes, actors and singers as they made their way to the sound studios. 'Talk to me, tell me your news, what's been going on … Let me make you famous.'
It was no line. She was astute at knowing what would entertain, what would make a headline. And she could spot raw talent. She discovered Willie Fennell, a natural comedian, at a local party and set the radio operator from the Rose Bay flying base on a course that would enable him to become one of the station's stars. She was instrumental in proposing Harry Griffiths, her office boy, as straight man to comedian Dick Bentley. This led to an offer from Roy 'Mo' Rene, who made Griffiths a household name with the phrase, 'Cop this, young Harry'.
Everything was of interest to her. If she heard Dick Bentley, the comedian made famous on the BBC's Take it from Here, had received a great new joke in a letter from the UK, she would hunt him down to use it in a press release. If Peggy Brooks, the singer, was involved in an interesting new liaison, she'd put the word out: 'Get her to ring me, I want to talk to her.'
Everyone ended up in my mother's office, which was an open house every afternoon when she put on a tea party complete with scones. People came for her company because, as Harry Griffiths recalled, she was 'quick' and 'bright' and, like her mentor and friend Jack Davey, she was 'a doer'. They all knew if they wanted to see their name in the press that she, the Publicity Officer of the most successful radio entertainment unit in Australia, was the woman who could put it there.
While she immediately thought Lawrie Brooks handsome, and while she was beguiled by his softly spoken voice that could rise to the heights of a great tenor, she couldn't have guessed that within eight months she would be part of the publicity herself. There she would stand, arm in arm with this man in the middle of Hyde Park, having her photograph taken for a full-page story for the magazine, Radio Pictorial. Under the picture, in big bold type, would run the word 'Engaged'.
On that winter day in August, as they beamed into the camera, they looked every inch the Hollywood couple: she elegant, with Lauren Bacall lacquered pageboy hair, tailored suit, fur muff and Katharine Hepburn brogues, while he sported a Bogart-type wide-shouldered double-breasted suit, with a silk handkerchief flying from its pocket and his ubiquitous Noel Coward cigarette-holder in his hand.
How did they arrive
Download


Copyright Disclaimer:
This site does not store any files on its server. We only index and link to content provided by other sites. Please contact the content providers to delete copyright contents if any and email us, we'll remove relevant links or contents immediately.