Complete Novels Of George Orwell, The by George Orwell
Author:George Orwell , Date: June 11, 2015 ,Views: 1198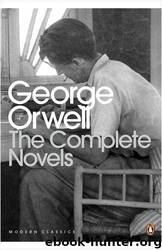 Author:George Orwell
Language: eng
Format: mobi, epub
Tags: Fiction, Classics, Education, General
ISBN: 9780141190396
Publisher: PENGUIN group
Published: 2009-06-04T10:02:17+00:00



5
Fishing!
Here I'll make a confession, or rather two. The first is that when I look back through my life I can't honestly say that anything I've ever done has given me quite such a kick as fishing. Everything else has been a bit of a flop in comparison, even women. I don't set up to be one of those men that don't care about women. I've spent plenty of time chasing them, and I would even now if I had the chance. Still, if you gave me the choice of having any woman you care to name, but I mean any woman, or catching a ten-pound carp, the carp would win every time. And the other confession is that after I was sixteen I never fished again.
Why? Because that's how things happen. Because in this life we lead–I don't mean human life in general, I mean life in this particular age and this particular country–we don't do the things we want to do. It isn't because we're always working. Even a farm-hand or a Jew tailor isn't always working. It's because there's some devil in us that drives us to and fro on everlasting idiocies. There's time for everything except the things worth doing. Think of something you really care about. Then add hour to hour and calculate the fraction of your life that you've actually spent in doing it. And then calculate the time you've spent on things like shaving, riding to and fro on buses, waiting in railway, junctions, swapping dirty stories, and reading the newspapers.
After I was sixteen I didn't go fishing again. There never seemed to be time. I was at work, I was chasing girls, I was wearing my first button boots and my first high collars (and for the collars of 1909 you needed a neck like a giraffe), I was doing correspondence courses in salesmanship and accountancy and 'improving my mind'. The great fish were gliding round in the pool behind Binfield House. Nobody knew about them except me. They were stored away in my mind; some day, some bank holiday perhaps, I'd go back and catch them. But I never went back. There was time for everything except that. Curiously enough, the only time between then and now when I did very nearly go fishing was during the war.
It was in the autumn of 1916, just before I was wounded. We'd come out of trenches to a village behind the line, and though it was only September we were covered with mud from head to foot. As usual we didn't know for certain how long we were going to stay there or where we were going afterwards. Luckily the C.O. was a bit off-colour, a touch of bronchitis or something, and so didn't bother about driving us through the usual parades, kit-inspections, football matches, and so forth which were supposed to keep up the spirits of the troops when they were out of the line. We spent the first day sprawling about
Download


Copyright Disclaimer:
This site does not store any files on its server. We only index and link to content provided by other sites. Please contact the content providers to delete copyright contents if any and email us, we'll remove relevant links or contents immediately.