Churchill by David Cannadine
Author:David Cannadine , Date: August 1, 2020 ,Views: 284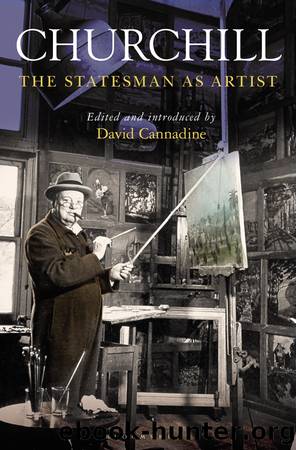 Author:David Cannadine
Language: eng
Format: epub
Publisher: Bloomsbury Publishing



8.
'SEA POWER' IN ART
Speech at the art exhibition opening, New Burlington Galleries, London, 27 July 1937
I noticed this morning in The Times an appreciative criticism which nevertheless has its double edge. 'Sea Power', said the distinguished critic, which is the general title of the exhibition, may mean either the power of the sea as an element or the command of the sea for naval and mercantile purposes, and, since emphasis upon the latter would exclude some very fine sea painters – Turner, for example – any Maritime Art Society that is formed would do well to decide whether the more inclusive or the narrower scope is intended.
To interpret sea power merely as the power of the sea would be to give the words their narrower scope, whereas power over the sea implies the wider scope; I have no doubt that it is the second, and not the first, that would afford the widest scope for artistic effort. Sea power, in the sense of the power of the sea, would no doubt be very important in studying some question of coast erosion on the Norfolk shore, or if it were necessary to build another esplanade at Margate, or if we were designing anti-rolling tanks for the Queen Mary. But it is when one comes to the great issues of power over the sea that one feels the contact with the immemorial past of Britain, and the romance of the story which has led us from so barbaric and subjugated an island to our present still respectable position.
There is also the question of whether the exhibition is to be characterized under the heading of art or of propaganda. I do not see why the two should not be combined, although they are not always combined. The other day, across the North Sea or German Ocean, a very great man, who is certainly a master of progapanda, favoured us with his views on art. They were very drastic and formidable pronouncements. I would feel it a very hazardous employment in some countries to be an amateur artist. If you had only the alternatives of being hung if your picture were accepted or hanged if it were rejected, it might put a great damper on individual enthusiasm.
It seems to me that, of all the countries in the world, this country is the one that should direct the attention of painters to the sea, and to the great ships that sail upon the sea. In the endless interpretations of those changing forms we will find a source of inspiration and a source of culture which ought to contribute to the general movement of our island life.
Download


Copyright Disclaimer:
This site does not store any files on its server. We only index and link to content provided by other sites. Please contact the content providers to delete copyright contents if any and email us, we'll remove relevant links or contents immediately.