Chatter by Ethan Kross
Author:Ethan Kross [Kross, Ethan] , Date: March 7, 2021 ,Views: 419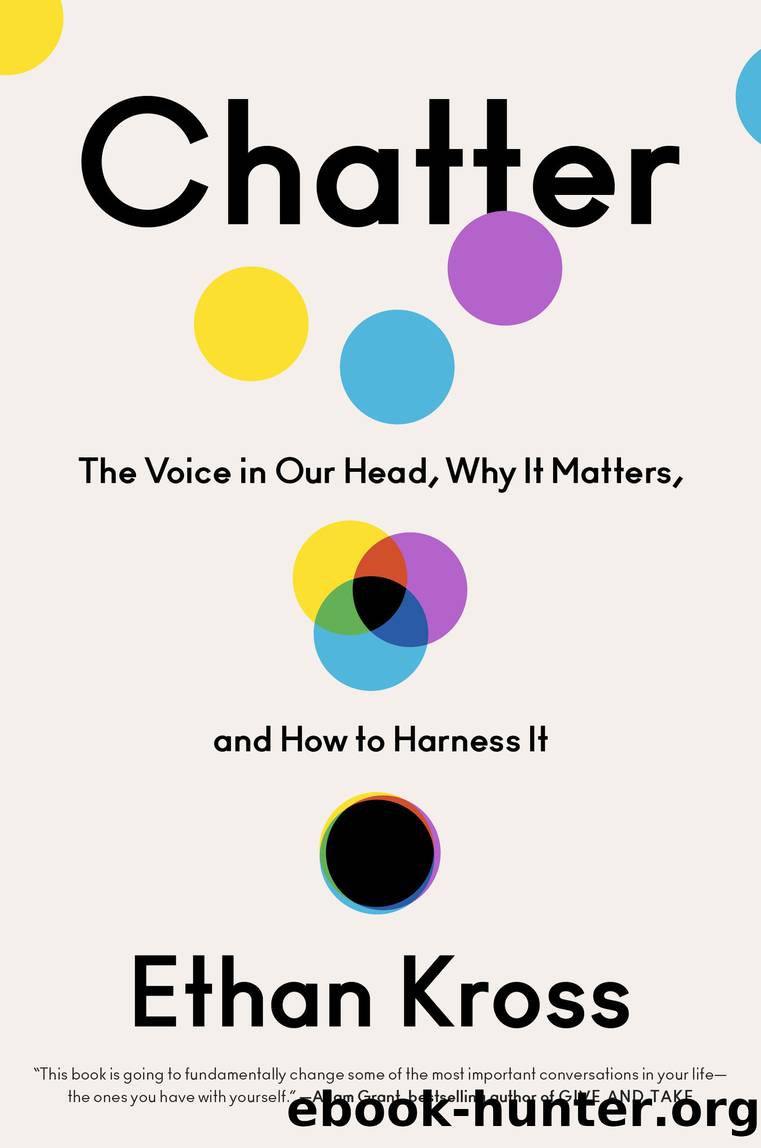 Author:Ethan Kross [Kross, Ethan]
Language: eng
Format: epub
Publisher: Crown
Published: 2021-01-26T00:00:00+00:00



Shrinking the Self
The excitement that Suzanne Bott felt as she grabbed her paddle and climbed into the raft made her body tingle. For the next four days, she would be paddling down Utah's shimmering Green River with three other rafts of people. During the day they would take in the tawny, castle-like canyon walls. At night they would talk about the day's adventures around a flickering campfire.
Despite first appearances from a cursory glance at the group, this wasn't your average collection of wilderness enthusiasts. Most of the paddlers were military veterans who had seen combat, along with several former firefighters who had been first responders on 9/11. Each person had replied to an advertisement recruiting veterans for an expenses-paid journey on the Green River designed to help them connect with nature. There was, however, a catch: The trip doubled as a research experiment. Even so, all the participants had to do was paddle and fill out a few questionnaires.
Bott was the outlier of the group. She wasn't a combat veteran and had no experience dousing fires. In 2000, after spending six years earning her PhD in natural resource management from Colorado State University, she felt burned out by the publish-or-perish culture of academia. So she began working in redevelopment, helping revitalize small towns. But Bott remained mindful all the while of the privileged life she led compared with so many other Americans, including her brother, a senior intelligence officer serving in Iraq. While some people's rumination comes from the things that they do, hers came from what she wasn't doing. She needed a change.
After working stateside for several years, Bott found a job with a State Department contractor in Iraq that supported the new government's efforts to take firmer control of different regions of the country. She landed in Baghdad in January 2007 and spent a year deployed in Ramadi, the Iraqi city Time magazine had dubbed "the most dangerous place in Iraq" only a month before she arrived. She spent much of her time there developing a long-term transition strategy for the new Iraqi government, working closely with a small corps of marines and army engineers. Her commute involved donning body armor, traveling in Humvee convoys, and sprinting from vehicles to buildings to avoid sniper fire. She was a world away from cozy Colorado.
Her new career provided Bott with the sense of purpose that had been missing from her life. It also pushed her to an emotional breaking point. She attended memorials for fallen colleagues on a regular basis and witnessed horrors amid her work that she wasn't prepared for—car bombs, territorial warfare, and assassinations. Carnage became the stuff of everyday life.
In 2010, Bott returned home to the United States, where her chatter took over. Questions about why she survived when so many of her colleagues had not were a continual source of distress. Memories of the horrors she witnessed replayed in her mind, compounded by constant news reports detailing the rise of ISIS in areas where she had so recently lived and worked.
Download


Copyright Disclaimer:
This site does not store any files on its server. We only index and link to content provided by other sites. Please contact the content providers to delete copyright contents if any and email us, we'll remove relevant links or contents immediately.