Chasing Chopin by Annik LaFarge
Author:Annik LaFarge , Date: August 12, 2020 ,Views: 290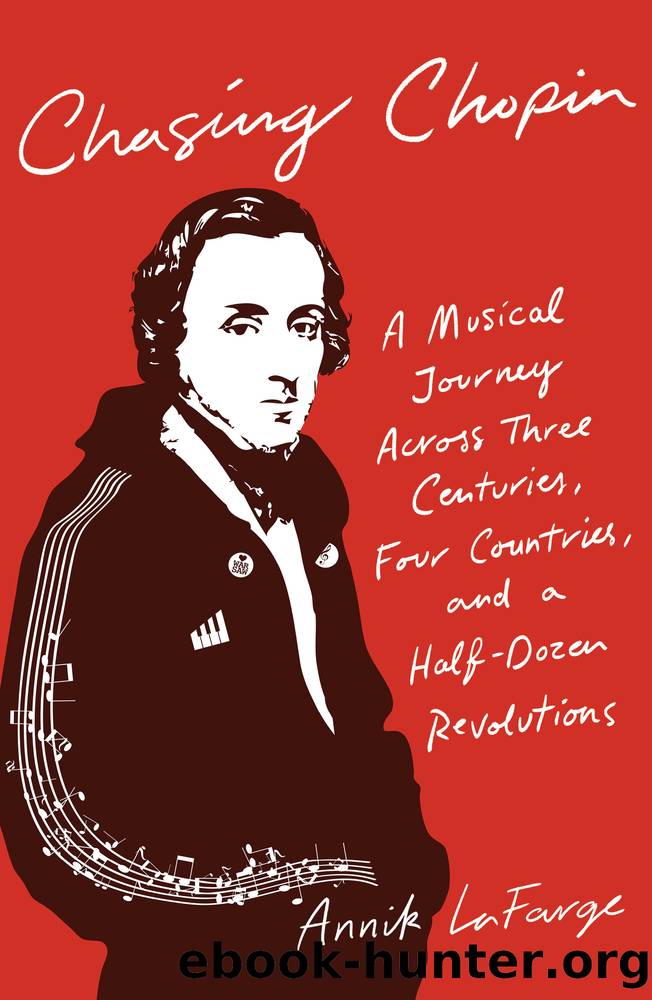 Author:Annik LaFarge
Language: eng
Format: epub
Publisher: Simon & Schuster
Published: 2020-08-11T00:00:00+00:00



* * *
For Chopin there was yet another artist in the room besides his lover: Johann Sebastian Bach. He brought with him to Majorca just a single book, the score of The Well-Tempered Clavier, Bach's collection of preludes and fugues composed between 1722 and 1742. In later years this work would come to be regarded as a kind of sacred text, music's "Old Testament," as the late nineteenth-century conductor Hans von Bülow put it, but "The 48" had fallen out of favor since Bach completed it and was not, when Chopin carried it from Paris to Majorca, part of the standard repertoire. I asked Yuan Sheng, who recorded all of Chopin's Preludes on the Frederick's 1845 Pleyel and is also a Bach expert, why he thought Chopin chose to bring that particular music with him. "Well, for Chopin Bach is God, and that book is like a Bible," he replied without hesitating. "It has everything, all the resources he would need: harmonic, contrapuntal, melodic, and structural. It has many different styles: French, Italian, German; sacred, secular, you name it, it's all there. But most of all," he added, "it's a real piano book, a book for piano writing." Sheng smiled and added: "Think about it: Chopin is traveling to an island, and he can't take much luggage. This one book will sustain him for however long—maybe even the rest of his life, because he was ill when they departed for Majorca and had no way of knowing how much time he had left." The Well-Tempered Clavier, Sheng was suggesting, is the perfect "desert island book" for a pianist/composer.
In a letter to Fontana Chopin sets the scene: "Between the cliffs and the sea a huge deserted Carthusian monastery… you may imagine me with my hair unkempt, without white gloves and pale as ever.… In front of the window are orange-trees, palms, cypresses; opposite the window is my camp-bed under a Moorish filigree rose-window. Close to the bed is an old square grubby box which I can scarcely use for writing on, with a leaden candlestick (a great luxury here) and a little candle. Bach, my scrawls…"
Chopin venerated Bach and particularly "The 48"; he could play them entirely from memory, and once, after performing many of them for a pupil, remarked: "It's not something you forget." By the time he arrived in Majorca, he was deep into a project to pay homage to the composer he admired most, his Preludes, op. 28: twenty-four exceedingly short pieces that form a complete cycle, inspired by The Well-Tempered Clavier. The two collections are different in format: Chopin made his way through the twenty-four keys that make up the harmonic universe of Western music, known as the Circle of Fifths, by taking large leaps, whereas Bach proceeded in small, incremental steps. Bach followed each prelude with a fugue; Chopin didn't. But they both used this highly structured format—a cycling through of all the available tonalities a keyboard instrument could muster—as a way of exploring the musical
Download


Copyright Disclaimer:
This site does not store any files on its server. We only index and link to content provided by other sites. Please contact the content providers to delete copyright contents if any and email us, we'll remove relevant links or contents immediately.