Budget Weddings For Dummies by Meg Schneider
Author:Meg Schneider , Date: November 29, 2016 ,Views: 622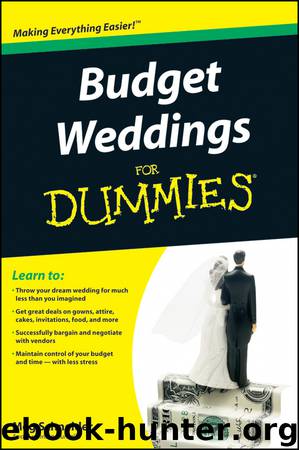 Author:Meg Schneider
Language: eng
Format: epub
Publisher: Wiley
Published: 2010-03-10T16:00:00+00:00



Chapter 9
Capturing It for Posterity: Photography and Videography
In This Chapter
Understanding your photo and video options
Finding and selecting a photographer and videographer
Asking your guests to help record memories
If you're like most couples, photography is the one area where you don't want to skimp on your wedding budget. After all, photos (and, if you choose, videos) will be around long after the last morsel of wedding cake has been savored. You may fondly remember your great-aunt Mildred on the rare occasions when you break out the silver-plated chafing dish she gave you as a wedding gift, but only photos can bring back the full glory of your ceremony and celebration. And only videos can capture the sounds and movement of the day.
I'm sure you've heard plenty of the many horror stories of couples who hired cut-rate photographers or videographers — or enlisted the family Ansel Adams–wannabe — with disastrous results. Wedding photos and videos are irreplaceable. If your photographer or videographer doesn't get the shot on the day, it's lost forever. So, if having these photos or videos is important to you, you need to devote an adequate portion of your wedding budget to professionals or skilled amateurs who are sure to deliver beautiful mementos of your big day.
However, you shouldn't blindly pay whatever a professional asks. You can easily save money without sacrificing the quality you deserve. In this chapter, I show you how to choose a photographer and videographer you can afford — where to look, what questions to ask, and what to beware of. I also give you ideas for getting your guests involved and making sure everyone has an opportunity to see the photos they take.
Deciding What Kinds of Photos and Videos You Want
No matter how much you spend to capture memories of your wedding day, it's a waste of money if you don't get the kind of photos or video you want. So before you start interviewing photographers and videographers — even before you set your budget for these professionals — you and your spouse-to-be should talk about what you want to see in your wedding album.
There are no wrong answers here. It's simply a matter of what you prefer. My husband and I, for example, didn't want formal, traditional photos; that wasn't our style. So we hired a photographer from the newspaper I worked for at the time and asked him to chronicle our ceremony and reception as they happened. My friend Jill, on the other hand, has more traditional tastes, so she chose a photographer who was skilled at setting up formal shots.
The same is true for video: You simply have to decide what type of video memories you want to have when the day is done. I chose not to spend the money for a professional videographer, but your priorities may be different. And, depending on what you plan to do with your wedding video — if you intend to post it online, for example, or present copies to friends and relatives — you may decide it's worth the cost to hire a pro.
Download


Copyright Disclaimer:
This site does not store any files on its server. We only index and link to content provided by other sites. Please contact the content providers to delete copyright contents if any and email us, we'll remove relevant links or contents immediately.