Bengal 2021 by Unknown
Author:Unknown , Date: June 11, 2021 ,Views: 35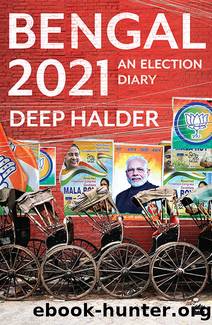 Author:Unknown
Language: eng
Format: epub
ISBN: 0000000000000
Published: 2021-03-15T14:50:46+00:00



7
Purbo, Paschim, Bankim or Rise of the Right
AUGUST 2020
As director of Dr Syama Prasad Mookerjee Research Foundation, Dr Anirban Ganguly time-travels. With an office adjacent to the BJP national headquarters at 11, Ashoka Road, Delhi, Dr Ganguly digs Bengal's past as much as he engages himself with the 2021 Bengal elections and the future of his people, who he believes have long suffered as a result of bloody history and bad politics. Unlike many talk-circuit liberals today who believe the rise of the Right in Bengal is a recent phenomenon coinciding with the rise of Narendra Modi in national politics, this author, political activist and public policy analyst reminds me that the Bengali Hindu Homeland Movement in late 1946, led by Dr Syama Prasad Mookerjee, among others, aimed to create a homeland, which is today West Bengal, for Bengali Hindus within the Indian Union. This was in the wake of the Muslim League's proposal and campaign to include the entire province of Bengal within Pakistan, which was to be the homeland for the Muslims of British India.
Over the years, I've met Dr Ganguly at some of his lecture sessions and I remember him for being the first person who recommended British conservative author and political commentator Douglas Murray's The Strange Death of Europe to me as essential reading.
'What is happening to Europe, the death of their civilization as they know it due to an influx of refugees from war-ravaged Islamic countries among other factors, is weirdly true for Bengal. It is easy to sit in Kolkata and talk of secularism. One needs to travel in Bengal to know what goes on. It takes something as simple as a wish to celebrate Durga Pujo in a constituency that is Muslim majority and the idea of a secular Bengal falls apart. Take the Deganga riots as example,' Dr Ganguly tells me.
The 2010 riots in Deganga in North 24 Parganas district saw shops and houses burned and temples desecrated. DNA newspaper would list it under '6 worst communal riots under the UPA government'.
'The Deganga riots had begun on Monday, 6 September, and continued for several days. 24 people were hurt and several houses and properties destroyed when clashes broke out between Hindu and Muslim communities in the Basirhat sub-division of North 24 Parganas, about 150 km from Kolkata,' dnaindia.com had reported.
This was in September 2010, when the Left Front was still ruling West Bengal. Mamata Banerjee would come to power the next year.
'She did worse than the Left Front. In order to hold on to power in Bengal, Mamata Banerjee has given a tacit nod to Islamists in Bangladesh!' Dr Ganguly tells me.
Sensing my disbelief, Dr Ganguly says he takes full responsibility for his statement. 'The Left had managed to put a veneer of respectability around minority appeasement. They never tinkered with Hindu festivals or touched Bengal's pujo culture. But under Mamata Banerjee, there is naked appeasement and pandering to Muslims. Remember the jono sabha at Maidan in 2013?'
I do. It had made big news in the national media.
Download


Copyright Disclaimer:
This site does not store any files on its server. We only index and link to content provided by other sites. Please contact the content providers to delete copyright contents if any and email us, we'll remove relevant links or contents immediately.