Basic Illustrated Edible and Medicinal Mushrooms by Jim Meuninck
Author:Jim Meuninck , Date: February 22, 2018 ,Views: 1694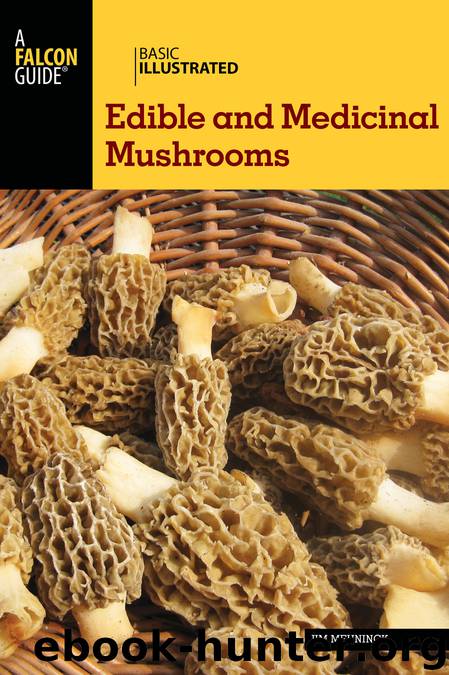 Author:Jim Meuninck
Language: eng
Format: epub
ISBN: 9781493014682
Publisher: Falcon Guides



NORTHERN TOOTH FUNGUS—INEDIBLE
Hydnaceae (Climacodon septentrionalis (Fr.) Karston)
Origin: Latin clima meaning "climate"; septentrionalis meaning "of the north."
Identification: This is another tooth fungus that has a large shelflike fruiting body with overlapping fan-shaped caps growing in horizontal clusters 6"–13" high, arising from a solid base that forms an attachment about 1.5" wide where it enters the wood. Cap is 5"–6" across, 1"–2" thick near the base, the mushroom's cap color out toward the margin is whitish to yellowish or buff, turning brownish-yellow when dry, densely hairy and roughened cap surface. Spines on undersurface ½ inch plus or minus long, narrow, with lacerated tips, crowded, pliable; dull white dries to yellowish. Flesh up to 2.5" thick, fibrous, tough, elastic; white; no odor or a mild one when fresh—it smells like ham when dried. Mild or no taste when fresh; bitter when old. Spore deposit white.
Download


Copyright Disclaimer:
This site does not store any files on its server. We only index and link to content provided by other sites. Please contact the content providers to delete copyright contents if any and email us, we'll remove relevant links or contents immediately.