Anzac and Aviator by Michael Molkentin
Author:Michael Molkentin , Date: March 14, 2020 ,Views: 191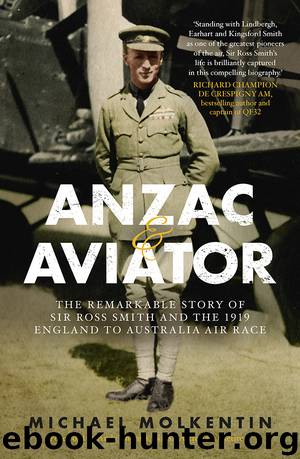 Author:Michael Molkentin
Language: eng
Format: epub
Publisher: Allen & Unwin
Published: 2019-08-21T16:00:00+00:00



25
THE GREAT RACE
Their survey voyage complete, Ross and his companions aboard the Minto returned to Calcutta on 13 June 1919.
Their three-month expedition had produced the first ever survey of a trans-Asian air route. Documented in dozens of pages of typewritten reports, the 30 aerodrome sites that Borton and Ross identified proved that India could, in theory, be linked to Australia by an air route passing through Burma, Siam, Malaya, Singapore and the Dutch East Indies. To be capable of supporting a commercial service, however, most of the sites would require extensive work and the investment of large sums of money. Indeed, the estimates for the purchase and construction of the aerodromes recommended by Borton came to £167,000—such a staggering amount, in fact, that when the cable with this figure arrived in London a shocked clerk at the Air Ministry assumed that there must have been an error in the transmission and asked for the cable to be repeated.1 It would be many months—perhaps even years—before a permanent airmail and passenger route could be established across South Asia.
To Ross and Borton, though, the expedition had also demonstrated the feasibility of a flight to Australia in the near future using racecourses and parks as temporary aerodromes. Upon their return to Calcutta, however, Ross and Borton were 'chagrined' to learn the RAF had sent their machine, the Handley Page O/400 that they had flown from Egypt, to India's NorthWest Frontier.2 A squadron had been preparing to use it against an invading Afghan army when a great storm hit its aerodrome, wrecking the aeroplane.
According to an account later written by Ross, things initially seemed hopeless but his 'heart pangs were mitigated' when he shortly afterwards learned that the Australian Commonwealth Government had offered a £10,000 prize to the first airman to fly from Britain to Australia within 30 days. Soon after this, claimed Ross, Borton was recalled to London, which 'opened the avenue of transport for myself and my two mechanics'. Accordingly, with Borton (who could not enter the competition because he was not Australian), Ross, Shiers and Bennett sailed for Britain shortly afterwards, intent on entering the Commonwealth Government's England-to-Australia air race.3
Yet this version fails to corroborate with other surviving primary sources. According to both Borton and Shiers, the party had learned of the England-to-Australia air race in Singapore before returning to India in mid-June. Neither recorded the date on which this occurred, but it was probably between 6 and 11 April when the Minto was docked at Singapore, although it might also have been in late May when Ross and Borton passed through again on their respective journeys to Siam and Borneo.4
Borton simply claims that, 'On return to Singapore we heard news of the prize' and that, as it was only open to Australian competitors, 'this ruled me out'.5 According to Shiers, they were relaxing in the Dominions Club in Singapore when a ship's captain handed them a newspaper from Australia. It reported an announcement, made by the government in March that,
Download


Copyright Disclaimer:
This site does not store any files on its server. We only index and link to content provided by other sites. Please contact the content providers to delete copyright contents if any and email us, we'll remove relevant links or contents immediately.