A Natural History of Love: Author of the National Bestseller A Natural History of the Senses by Diane Ackerman
Author:Diane Ackerman [Ackerman, Diane] , Date: August 1, 2020 ,Views: 22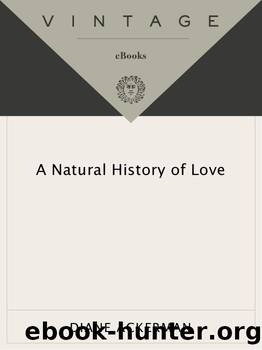 Author:Diane Ackerman [Ackerman, Diane]
Language: eng
Format: mobi
ISBN: 9780307763327
Publisher: Knopf Doubleday Publishing Group
Published: 2011-05-31T16:00:00+00:00



Tell me, where all past years are, Or who cleft the Devil's foot;
Teach me to hear mermaids singing …
Even if his friend can do these miraculous things, and travel far and wide, he will not return from his travels having met even one woman who was true, or at least, if she was true when he left her, by the time John Donne meets her she will be false. His anguish, though soul-sapping, is temporary. One day, he'll be finding a little Eden in Twickenham Garden, where he longs to be the stone fountain, "weeping" all year so that lovers may come with crystal vials and drink his tears. Next, he blasphemes "Love, any devil else but you"! Another day, he's celebrating a new affair, and eloquently revealing, in "Love's Diet," how he restricts himself to one sigh a day, to stay somewhat in control of that ever-alert, transcendent, black-angel raptor, his "buzzard love."
Catherine de Médicis's love diet included many artichokes, and Paris street vendors used to cry their commercials: "Artichokes! Artichokes! Heats the body and the spirit. Heats the genitals!" Another incendiary food, garlic, is universally celebrated as an aphrodisiac because, as Culpepper wrote, "Its heat… is vehement." Because they create minifireworks that arouse the lower organs, black beans have always been a favorite aphrodisiac of Italian peasants. The fourth-century cleric St. Jerome would not allow the nuns under his spiritual direction to eat black-bean soup for that reason. But sometimes a concoction of rarities is the best stimulus of all. Here's a surefire aphrodisiac from the medieval "Black Book" of "venereal pastimes":
Burdock seeds in a mortar pound them. Add of three-years-old goat the left testicle and from the back hairs of a white whelp one pinch of powder, the hairs to be cut on the first day of the new moon and burned on the seventh day. Infuse all the items in a bottle half filled with brandy. Leave uncorked twenty-one days to receive astral influence. Cook on the twenty-first day until the thick consistency is reached. Add four drops of crocodile semen and pass through a filter. Rub mixture on genitalia and await the result.
Download


Copyright Disclaimer:
This site does not store any files on its server. We only index and link to content provided by other sites. Please contact the content providers to delete copyright contents if any and email us, we'll remove relevant links or contents immediately.