Warlord by Carlo D'Este
Author:Carlo D'Este , Date: March 28, 2020 ,Views: 240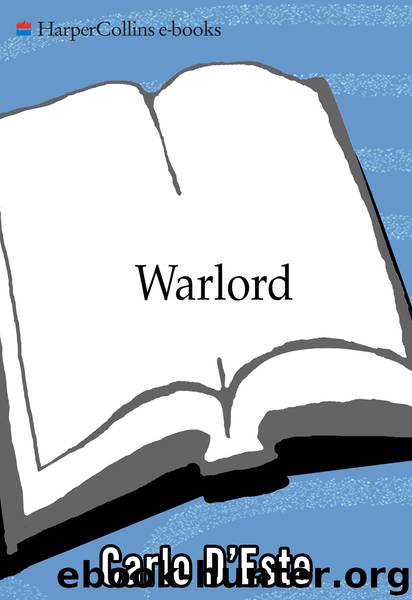 Author:Carlo D'Este
Language: eng
Format: epub
Publisher: HarperCollins
Published: 2008-03-14T16:00:00+00:00



The last British soldier at Dunkirk the morning of June 3, 1940, was an aristocratic, unflappable Guards officer in charge of the British rear guard. Major General Harold Alexander, best known as "Alex," commanded the First Division until May 31, when Gort turned over to his care the command of the defense of the Dunkirk perimeter. Before embarking for England, Alexander instructed the crew of his motorboat to maneuver close to shore. With a megaphone in hand, he repeatedly called out in both French and English, asking if anyone was there. Although no one replied, Alexander nevertheless returned to the harbor and made a final tour to assure himself that no one had been left behind. Only then did he embark. In the months ahead he would become Churchill's favorite general, whom Churchill regarded as the model of a British officer and commander of troops.
Although Churchill had ordered that as many French troops as possible should be evacuated, when Alexander left Dunkirk there were none to be seen. There were, however, some 60,000 French in the Allied bridgehead protecting the evacuation of the BEF, of whom 26,175 were evacuated to England on the final day. Despite the bitter recriminations that Britain had deserted France in its most desperate hour, Adm. Bertram Ramsay's makeshift "navy" rescued 123,095 French troops from Dunkirk.
The organizer and commander of Operation Dynamo was destined to play a key role in 1944 as the commander of Allied naval forces for the cross-Channel invasion of Normandy. Ramsay had been under frightful strain throughout the nine days of the evacuation and rarely left his operations room in Dover Castle. When the operation officially ended at 2:23 p.m., June 4, Ramsay unwound by playing a round of golf at nearby Sandwich, shooting the best score of his life, which he may have regarded as another miracle in a week filled with them.
Epic tales of Dunkirk continue to fill the history books. The grit and ingenuity displayed by the Royal Navy, the RAF, and the civilian sailors manning the small boats, who ferried the men of the BEF to the destroyers and other ships, were deservedly enshrined forever in British history. Yet many things about Dunkirk were deeply troubling: from the reality that it was made possible only by Hitler's blunder to the fact that the BEF was compelled to abandon most of its precious equipment on the beaches.
James Bradley was a Bren gunner, and his account of surviving Dunkirk was typical:
Download


Copyright Disclaimer:
This site does not store any files on its server. We only index and link to content provided by other sites. Please contact the content providers to delete copyright contents if any and email us, we'll remove relevant links or contents immediately.