Urban Farms by Sarah C. Rich
Author:Sarah C. Rich , Date: March 1, 2020 ,Views: 195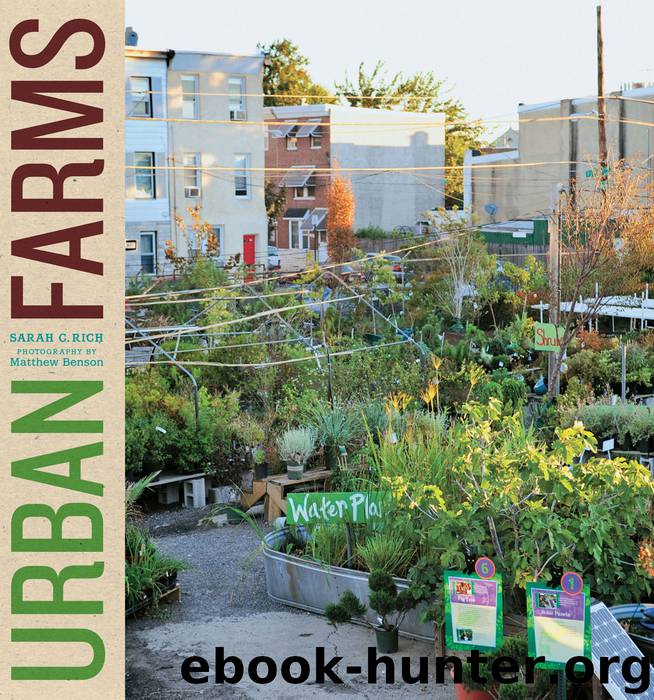 Author:Sarah C. Rich
Language: eng
Format: epub
Publisher: Abrams
Published: 2012-02-29T16:00:00+00:00



ALL IMAGES FROM VICTORY PROGRAMS ReVISION URBAN FARM (THIS PAGE)
CATHERINE FERGUSON ACADEMY
DETROIT, MICHIGAN
When the Detroit Board of Education told Paul Weertz, a science teacher at Catherine Ferguson Academy, that his students were required to dissect animals as part of their curriculum, he was deeply concerned. It wasn't that Weertz was uncomfortable with dissection—on the contrary, he'd been raising animals and slaughtering his own meat in the city for years—his worry had to do with the formaldehyde the animals are packed in before being sent to the science lab.
The student body at Catherine Ferguson Academy is different from most others in Detroit, consisting of girls from seventh to twelfth grade, many of whom are pregnant, as well as babies and toddlers, who are the children of the teens attending the school. Weertz knew that with pregnant and nursing young women in his classroom, formaldehyde fumes could pose a serious health risk. Nevertheless, graduation requirements were non-negotiable. Weertz decided that the only way to keep the girls and babies safe while fulfilling curriculum requirements would be to raise live animals at the school specifically for dissection (they are euthanized humanely). Such were the first seeds of one of Detroit's most interesting urban farms.
Today, instead of a typical playground and sports field, the outdoor space at Catherine Ferguson Academy houses a menagerie of farm animals and an extensive food-growing operation. While Weertz and several of his colleagues have facilitated the growth of the project, the young students have become the farmers. Their daily schedule includes time in the field weeding, milking, and collecting honey, and even the toddlers take part, spending recess with the chickens, ducks, and rabbits.
For many of the students, as with the majority of American teens, eating fruits and vegetables picked straight from the tree or out of the ground is a novel experience, let alone learning the art of beekeeping. For some, the first encounters with large animals and stinging insects can be frightening, but through the process of discovering they can control a horse or a tractor, the girls also come to realize they can assert control in other areas of their life where they may have felt more helpless. The empowerment they acquire while farming carries over into their relationships at home and often changes their outlook on the future.
Download


Copyright Disclaimer:
This site does not store any files on its server. We only index and link to content provided by other sites. Please contact the content providers to delete copyright contents if any and email us, we'll remove relevant links or contents immediately.