The Untethered Soul: The Journey Beyond Yourself by Michael A. Singer
Author:Michael A. Singer [Singer, Michael A.] , Date: July 2, 2020 ,Views: 400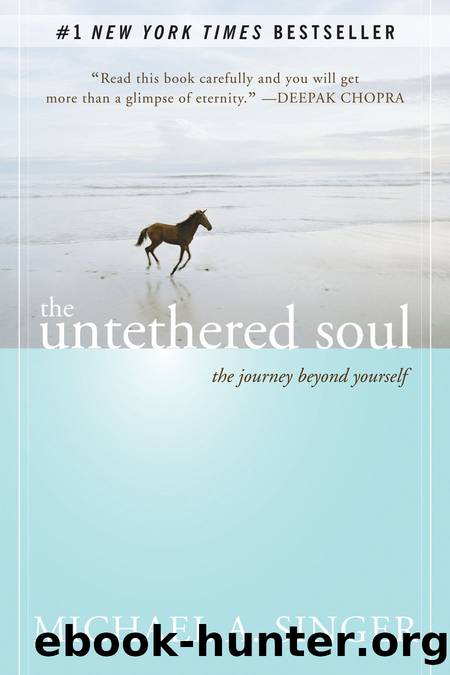 Author:Michael A. Singer [Singer, Michael A.]
Language: eng
Format: azw3
ISBN: 9781608820498
Publisher: New Harbinger Publications
Published: 2007-10-02T16:00:00+00:00



11
pain, the price of freedom
One of the essential requirements for true spiritual growth and deep personal transformation is coming to peace with pain. No expansion or evolution can take place without change, and periods of change are not always comfortable. Change involves challenging what is familiar to us and daring to question our traditional needs for safety, comfort, and control. This is often perceived as a painful experience.
Becoming familiar with this pain is part of your growth. Even though you may not actually like the feelings of inner disturbance, you must be able to sit quietly inside and face them if you want to see where they come from. Once you can face your disturbances, you will realize that there is a layer of pain seated deep in the core of your heart. This pain is so uncomfortable, so challenging, and so destructive to the individual self, that your entire life is spent avoiding it. Your entire personality is built upon ways of being, thinking, acting, and believing that were developed to avoid this pain.
Since avoiding the pain prohibits you from exploring the part of your being that is beyond that layer, real growth takes place when you finally decide to deal with the pain. Because the pain is at the core of the heart, it radiates out and affects everything you do. But this pain is not the physical pain that you receive as messages from your body. Physical pain is only there when something is physiologically wrong. Inner pain is always there, underneath, hidden by the layers of our thoughts and emotions. We feel it most when our hearts go into turmoil, like when the world does not meet our expectations. This is an inner, psychological pain.
The psyche is built upon avoiding this pain, and as a result, it has fear of pain as its foundation. That is what caused the psyche to be. To understand this, notice that if the feeling of rejection is a major problem for you, you will fear experiences that cause rejection. That fear will become part of your psyche. Even though the actual events causing rejection are infrequent, you will have to deal with the fear of rejection all the time. That is how we create a pain that is always there. If you are doing something to avoid pain, then pain is running your life. All of your thoughts and feelings will be affected by your fears.
You will come to see that any behavior pattern based upon the avoidance of pain becomes a doorway to the pain itself. If you are afraid of being rejected by someone and you approach that person with the intention of winning their acceptance, you are skating on thin ice. All they have to do is look at you sideways or say the wrong thing, and you will feel the pain of rejection. The bottom line is that since you approached them in the name of rejection, you're going to be dancing on the edge of rejection throughout the interaction.
Download


Copyright Disclaimer:
This site does not store any files on its server. We only index and link to content provided by other sites. Please contact the content providers to delete copyright contents if any and email us, we'll remove relevant links or contents immediately.