The Mind at Work by Mike Rose
Author:Mike Rose [Rose, Mike] , Date: June 30, 2020 ,Views: 220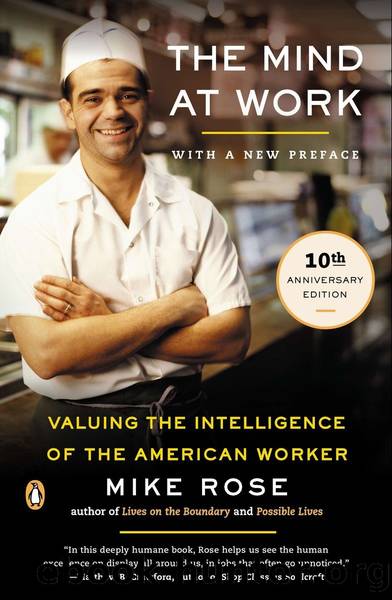 Author:Mike Rose [Rose, Mike]
Language: eng
Format: epub
Publisher: Penguin Books
Published: 2005-07-26T00:00:00+00:00



"Hey, Justin, that's pretty!" Jim Padilla yells to the boy on the ladder, under the eaves, affixing the last fastening strap around a long stretch of electrical conduit. Mr. Padilla pulls two other boys over, pointing up. The sun is behind us, warm and bright on the stucco of the new house. "Look," Mr. Padilla says in his earnest, rolling voice, "you can barely see the conduit. Nice, huh? You always want to preserve the beauty of the home."
Jim Padilla, a stocky man with thick black hair and a full mustache, is the teacher of this crew of fledgling electricians, fifteen or so boys, high school juniors and seniors out of the classroom on their first job site, a modest tract house in need of outdoor lights and receptacles. Mr. Padilla moves on, his arms angling out from his chest as he walks, and stops at another ladder to talk to another boy fastening conduit under the eaves. "Hey, Mundo," he hollers up, "come down here a minute, por favor. I wanna show you something." Mundo makes his way down, rung after rung, setting foot alongside Mr. Padilla. The teacher points up to one of the straps on the underside of the roof. It is off-center. "Look, Mundo," says Mr. Padilla, "see, all the other straps are in the middle. That's good. Fix this one, OK? If the strap's in the middle it's stronger, and it looks better." Mundo nods and starts back up the ladder. Mr. Padilla places his hand on the boy's shoulder. He's not done yet. "We try hard not to show our straps, Mundo. We want to show as little evidence of the electrician's being here as possible."
The snug attachment of a conduit, the neat bend in it as it connects to a receptacle, the exact placement of a fastening strap where few will see—there is functional purpose to all this, but an aesthetic motive, too. ("What looks well works well," says one of the carpenters in Tracy Kidder's House.) To Jim Padilla's eye, such work is pleasant to behold, is "pretty," and he tries to train the eye of his students to see it as pretty, too. Being on a job site with Jim Padilla is like being in an artisan's studio, surrounded with evaluative craft-talk. Over time, the students acquire it, and the acquisition re-creates tradition in this time and place. A boy next to me stands back from his work, looks at it quietly, then turns to me and says, "That's nice, isn't it?" The look of the work becomes a mark of one's identity as an electrician. Showing a group of students the wiring in the electrical panel alongside the house, Mr. Padilla tells them: "Here's the thing, guys. Make it as neat as possible. Your signature is on this."
But it is an unusual signature, and an unusual aesthetic, given the aesthetic of display that so permeates both our popular and highbrow culture. Part of the appeal here is the care put into embedding one's work in the context of the house, out of view, even hidden.
Download


Copyright Disclaimer:
This site does not store any files on its server. We only index and link to content provided by other sites. Please contact the content providers to delete copyright contents if any and email us, we'll remove relevant links or contents immediately.