The Happiness Trap: How to Stop Struggling and Start Living by Harris Russ
Author:Harris, Russ [Harris, Russ] , Date: March 24, 2014 ,Views: 640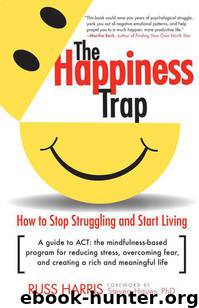 Author:Harris, Russ [Harris, Russ]
Language: eng
Format: epub, mobi
Publisher: Shambhala Publications
Published: 2011-04-21T04:00:00+00:00



In other words, to manage your urges effectively, you need to ACT:
A = Accept your thoughts and feelings.
C = Connect with your values.
T = Take effective action.
It's All about Balance
We experience urges all day long, every day of our lives, and most of the time acting appropriately on them is no big deal. In ACT, we're concerned only with urges that get in the way of living a meaningful life. For example, I act on my chocolate urges fairly regularly, and it's not a problem. But if I acted on them all the time, I'd be the size of an elephant, and that would not be in line with my values on health. On the other hand, if I never acted on them, I'd be unnecessarily depriving myself of a simple but satisfying pleasure.
The point is, you need to find a healthy balance. Don't put ridiculous expectations on yourself, deciding that you're never again going to act on self-defeating urges. Of course you will—you're human. You'll screw up again and again over the course of your life. But here's the thing: the instant you are aware of what you're doing, you have a chance to do something more effective. And over time you'll get better and better at catching yourself earlier and earlier.
While urge surfing can be very helpful, like any skill, it requires practice. (Look, you had to know that was coming.) The best way to practice is to put yourself in a situation where you're likely to feel confronted by troublesome urges. But don't choose just any challenging situation; choose one that moves your life forward in a meaningful way.
During the next week, pick two or three difficult situations that naturally occur when you take your life in a valued direction. These situations could be anything: getting some exercise, attending a class, or attempting something new at work. Once you're in those situations, notice your urges, surf them, and stay fully engaged in what you're doing.
Of course, staying engaged in what you're doing can be tricky, especially when the thinking self starts mouthing off. That's why in the following chapters we're going to look at a process called "connection," which is all about engaging in and connecting with our experience (rather than getting caught up in our thoughts and feelings). But before we get to that, we need to pay a brief visit . . .
Download


Copyright Disclaimer:
This site does not store any files on its server. We only index and link to content provided by other sites. Please contact the content providers to delete copyright contents if any and email us, we'll remove relevant links or contents immediately.