The Golden Passport by Duff McDonald
Author:Duff McDonald , Date: April 27, 2017 ,Views: 496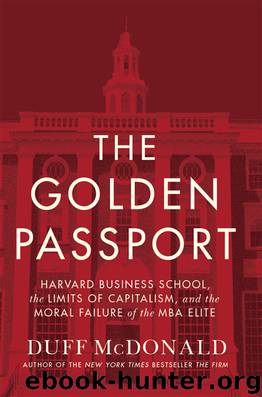 Author:Duff McDonald
Language: eng
Format: epub
Publisher: HarperCollins
Published: 2017-02-17T16:00:00+00:00



The case method teaches students to think on their feet and to argue with conviction, even if they don't entirely know what they're talking about. That's what management consultants do, too. So when Bok questioned the merits of the case method, he wasn't just engaging in bureaucratic infighting at Harvard; he was threatening the talent-sourcing pool of the business world's savviest behind-the-scenes operator.
Bower's biographer puts forth a version of events in which Fouraker hadn't even seen the Bok Report before the story appeared in the New York Times in April 1979. Bok says that's false—that he showed a draft of the report to Fouraker and his deputy, John McArthur, neither of whom expressed any problem with it.2 But the day the Times story did come out also happened to be the day of a meeting of the board of directors of the Associates of HBS—those four-hundred-plus companies that had long-standing financial ties to the School. And they took offense to it, regardless of the fact that Fouraker himself had not. "Larry, you have been attacked by your boss," said one. "This is awful."3
On May 21, 1979, Bower convened a subsequent meeting of the board of the Associates. A task force was created to respond to Bok's report, and Bower and Albert Gordon, HBS class of '25 and the chairman of Kidder Peabody from 1957 to 1986, were chosen to head it. Gordon later recalled with awe how the methodical Bower took on the legally trained Bok, a master of argument himself. "Marvin and I had a couple of interviews with [Bok]. They were rather stormy interviews. Before we would go into meetings . . . Marvin would review what he thought Bok's logic would be. We would discuss our responses. Marvin could think like Bok, he almost always anticipated his responses. We rehearsed what we were going to do. We had a plan. We executed it."4 The task force—which was in large part peopled by McKinsey consultants—marshaled a murderers' row of corporate chieftains—the CEOs of Ford, AT&T, and the like—to endorse the case method's ability to prepare HBS graduates for their real-world postgraduation responsibilities.
Bower also had his eye out for Fouraker's replacement, and it had settled on John H. McArthur, a self-effacing former football player and Fouraker's deputy. On the surface, this was change. McArthur was Fouraker's antithesis: a team player who would make up for a decade of high-flying absentee management. Underneath, though, McArthur represented the status quo that the school's faculty and Associates remained wedded to. When Bower communicated his thoughts on the matter to Bok, he stressed the more superficial notion that McArthur represented a break with the past, at least as far as personalities were concerned.
In November 1979, Bok appointed McArthur as Fouraker's replacement. A month later, on December 3, the task force issued its own report, "The Success of a Strategy," a fifty-two-page discourse that could just as easily have been summarized in a few words: Why mess with success?
"Our general conclusions can be simply stated," its authors wrote.
Download


Copyright Disclaimer:
This site does not store any files on its server. We only index and link to content provided by other sites. Please contact the content providers to delete copyright contents if any and email us, we'll remove relevant links or contents immediately.