The First Conspiracy: The Secret Plot to Kill George Washington by Brad Meltzer & Josh Mensch
Author:Brad Meltzer & Josh Mensch [Meltzer, Brad] , Date: July 31, 2020 ,Views: 278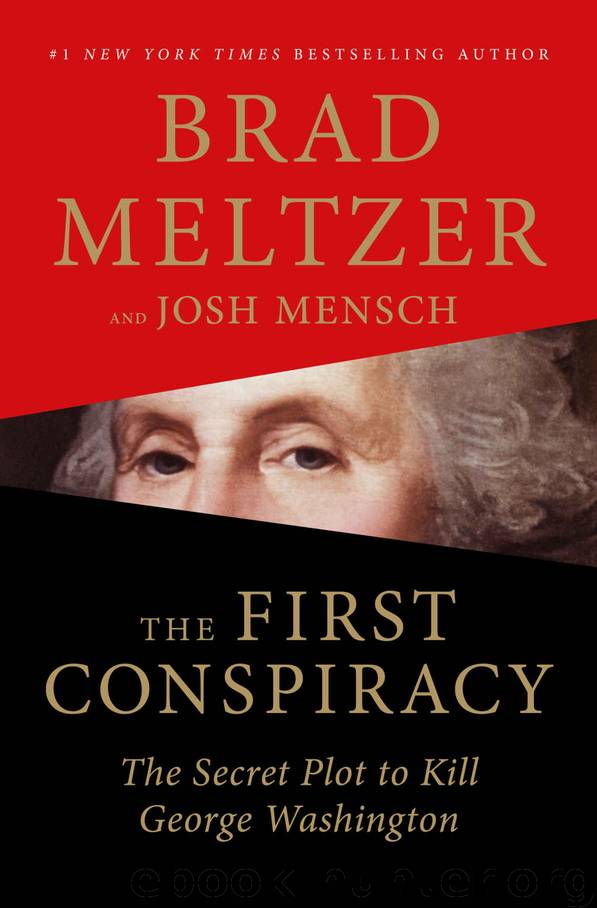 Author:Brad Meltzer & Josh Mensch [Meltzer, Brad]
Language: eng
Format: epub
Tags: History
ISBN: 9781250130334
Google: Vs56DwAAQBAJ
Amazon: 1250130336
Publisher: Flatiron Books
Published: 2019-01-08T00:00:00+00:00



47
New York, New York
June 1776
The Life Guards.
They're George Washington's elite unit. His trusted bodyguards. The most disciplined men. The best-trained soldiers.
In an army otherwise made up mostly of untrained neophytes, hayseeds, and former criminals, the Life Guards are supposed to be a beacon of excellence and the pride of the service.
Much remains unknown about the Life Guards' personnel and their whereabouts in New York City in the spring and early summer of 1776. And there are surprisingly few records maintained of their daily work. The names of many soldiers who served in the earliest version of this elite squadron have been lost to history, casualties of scattered record keeping or documents later destroyed.
Also, the Life Guards' precise duties were often kept secret or only spoken verbally, given their frequent proximity to the Commander-in-Chief and his innermost circle of advisers. The Life Guards' daily assignments were apparently not meant for the rank and file to know, let alone be put in a written form that could leak to the public or the enemy.
Still, through the haze of secrecy and the passage of time, records remain of at least some of their names and occasional evidence of their whereabouts in the early summer of 1776.
One group of the guards in particular is known to hang around as a sort of posse, both on and off duty. Of the roughly fifty guards total, this little group of a half dozen is often seen together, socializing or walking the streets, getting to know their new city just as the other soldiers and officers do when they're not on the clock.
Who exactly are the members of this group?
There's William Green, a drummer, and supposedly something of a leader among them; James Johnson, a fifer, who is often seen alongside Green; and Michael Lynch, a private of unknown origin. There's a young soldier named John Barnes, originally from Massachusetts. And finally, there's Thomas Hickey, who first joined the guards as a private, but soon became a sergeant. Hickey, originally from Ireland, is described in one record as "five feet six inches high, and well-set," and also "dark-complexioned."
Only two years earlier, Hickey was a soldier in the British army, stationed in Connecticut. As hostilities mounted between the colonies and the British, Hickey deserted the British army and joined the Continental side. This phenomenon was far from unique; in fact, the superior skill and training of former British soldiers made them valuable recruits for colonial militias and the Continental army. Perhaps because of his prior military experience, Hickey is described as "a favorite" of Washington's.
It is hard to know exactly when and how it came to be that in the early summer of 1776, this group of Life Guards—Green, Barnes, Lynch, Johnson, Hickey, and a few others—began to drift away from the course of duty.
Surely the taverns have something to do with it. Both in and out of uniform, these soldiers are seen frequenting some of the less reputable beer halls and public houses in the city, mixing and crossing paths with questionable characters.
Download


Copyright Disclaimer:
This site does not store any files on its server. We only index and link to content provided by other sites. Please contact the content providers to delete copyright contents if any and email us, we'll remove relevant links or contents immediately.