The Brave Ones: A Memoir of Hope, Pride and Military Service by Michael J. MacLeod
Author:Michael J. MacLeod [MacLeod, Michael J.] , Date: August 3, 2020 ,Views: 202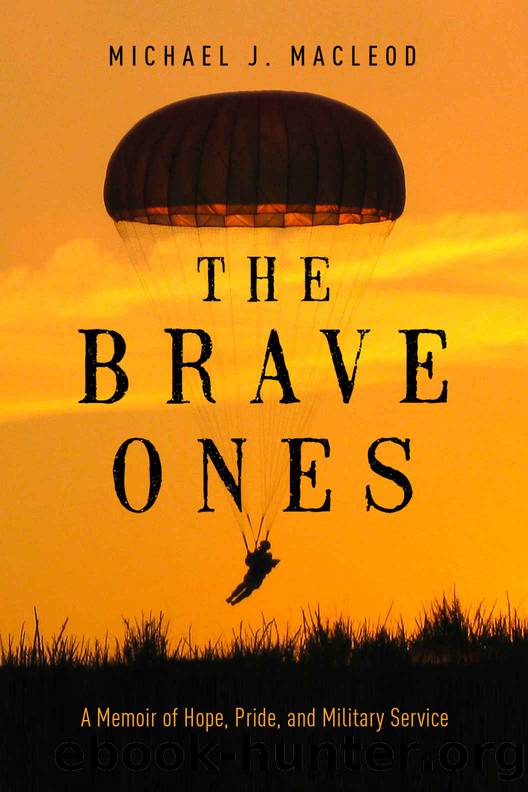 Author:Michael J. MacLeod [MacLeod, Michael J.]
Language: eng
Format: azw3
ISBN: 9781503945425
Publisher: Grand Harbor Press, Grand Haven, MI
Published: 2015-11-09T16:00:00+00:00



CHAPTER 4:
FOB ARIAN AND MASSIVE IEDS
The best place to get the latest scuttlebutt was breakfast chow. One had to be careful of what was said because third-country nationals, Afghan soldiers and police, interpreters, and American contractors all ate there. Without doubt, there were ears that shouldn't hear. Breakfast chow was sparsely attended very early in the morning, when I preferred to eat. It was also when many of the busiest TOC staffers ate.
Around five one morning, I was taking advantage of the open bandwidth and vacant computer stations at the MWR, updating the brigade Facebook page with recent photos of soldiers, when the building began to tremble from outgoing 155mm howitzer rounds. I wanted to know what our artillerymen were shooting at, so I went to the chow hall. Sitting at a table were the deputy and sheriff of the good-ol'-boy network, brigade combat engineer Staff Sergeant Joel Watts and Cory Kroll, a retired sergeant major who was the brigade's safety officer (a civilian position). If something was dangerous and on a FOB, Cory knew about it and Watts was probably involved. I sat down with my tray.
"They were just registering their guns, Mac," said Cory.
Like most sergeants major, Kroll was a bottom-line guy, but as a civilian, a friendly one who was always there to give a guy a hand anytime, day or night. Plus, he was from Billings, Montana, just down the road from my town of Bozeman. He and Watts were discussing the feral dog problem at the FOB dump. Rabies was a real threat in Afghanistan, so the order went out to eliminate all the dogs and cats on the FOB. Watts, a man of the woods from Georgia, had already killed two dogs with his M4 carbine, using a water bottle as a silencer. Both dogs tested positive for rabies.
In other news, Kroll said another vehicle had been struck by an IED up north by FOB Arian. The recovery vehicle got stuck in the mud, and when they called the Quick Reaction Force, the QRF was hit by an IED. No major injuries.
"Them boys have to deal with some serious IEDs up there," Kroll said.
I remarked on how fortunate our brigade had been through so many IED strikes with no major injuries.
Cory shook his head, "You heard about the fellow up at Muqor? Now that fellow was lucky."
I hadn't. Charlie Company's Second Platoon had been working their way down Nawah Road to clear the village of Hasti. A Bravo Company platoon was conducting an unrelated patrol nearby when its mineroller (an MRAP that pushes a multi-wheeled attachment to trigger mines) became stuck in a drainage canal paralleling the road. On QRF that day, Charlie Company's Lieutenant Joyce came to the rescue with Third Platoon and a MaxxPro wrecker. The wrecker was twenty meters in front of Joyce's vehicle when it suddenly lurched into the air.
From the passenger seat of his own MaxxPro, Joyce watched the fifteen-ton vehicle ripped apart by a massive IED. In his periphery, the lieutenant caught movement.
Download


Copyright Disclaimer:
This site does not store any files on its server. We only index and link to content provided by other sites. Please contact the content providers to delete copyright contents if any and email us, we'll remove relevant links or contents immediately.