Something Other than God: How I Passionately Sought Happiness and Accidentally Found It by Jennifer Fulwiler
Author:Jennifer Fulwiler [Fulwiler, Jennifer] , Date: December 11, 2019 ,Views: 182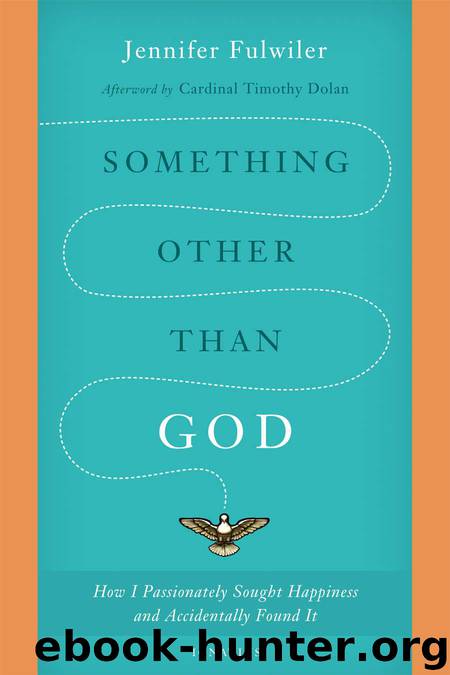 Author:Jennifer Fulwiler [Fulwiler, Jennifer]
Language: eng
Format: epub
Tags: Spiritual & Religion
ISBN: 9781681491240
Publisher: Ignatius Press
Published: 2016-11-09T23:00:00+00:00



20
"Take off your wedding ring," Joe said. His eyes were fixed on the road in front of us, his hands cemented to the steering wheel. "It's better if these guys don't know you're my wife."
I slipped the unadorned gold band off my finger and tucked it into the back pocket of my purse, next to our house key. It was a chilly mid-winter day, everything around us hard and gray from the weeks of cold. Even with the car's heating vents all the way open, I couldn't seem to get warm.
"As far as they know, your role doesn't go beyond paralegal. Introduce yourself as Jennifer. If they ask for a last name, use your maiden name."
We arrived at the nondescript strip center where the Jaworski deposition was to take place, but Joe drove past it and turned the car into the parking lot of an abandoned building down the street. He put it in park and turned to me. There was something in his eyes, something so unfamiliar that I had trouble placing it. Stress, for sure. But I could have sworn I also saw fear.
"Do you have the camera?"
I fumbled with the canvas bag at my feet. "Yes."
"Videotape?"
"Yes."
"Backup tapes?"
"Yes."
I pulled out the main tape we would use, a mini-DV cassette. As part of my preparation, I'd pressed a fresh label across the front and written the date and client name with a black marker.
"That's the wrong date." Joe grabbed the tape out of my hand. "Do you have another label? We've got to be more careful about that."
I did a double-take before I reached into the bag for a new label. Small mistakes didn't usually upset him. "Are you okay?" I asked.
"I will be when this case is over," he said. He reached into the bag at my feet and handed me a sheet of paper that another paralegal had typed up, titled with the con artist's name, Eric Rayburne. Now that Mr. Jaworski was bringing a case, other victims had come forward and begun to tell their stories, many of them elderly or disabled. There was a widowed woman in Amarillo whom Rayburne had met in an online grief support group. He got to know her, convinced her to invest all her savings in a nonexistent business, and left her with an empty bank account. She had no children and had even lost the house she'd lived in for thirty years. Now she lived in a state-run nursing facility.
I scanned down the page, past stories of five thousand stolen here, a car "borrowed" and never returned there. At the bottom of the page I saw that a disabled woman had accused him of sexually harassing her daughter. She didn't have much evidence and didn't want to drag her child through court, but she was adamant that he'd done it.
I folded the paper and put it back in the bag. "What kind of lawyer would defend someone like that?"
"People tend to find lawyers with personalities like their own. His lawyer is Amos Adler, and they knew each other for years before this case.
Download


Copyright Disclaimer:
This site does not store any files on its server. We only index and link to content provided by other sites. Please contact the content providers to delete copyright contents if any and email us, we'll remove relevant links or contents immediately.