Signature for Success by Arlyn Imberman
Author:Arlyn Imberman , Date: March 18, 2018 ,Views: 819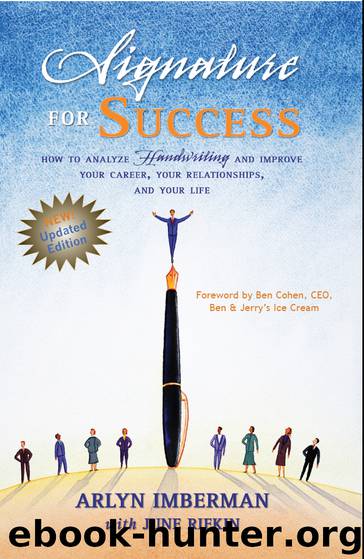 Author:Arlyn Imberman
Language: eng
Format: epub
Tags: Religion, Christianity
Publisher: Sanger, California
Published: 2013-03-28T04:00:00+00:00



Descriptions Revealed
1. O. J. Simpson If you find this writing to be of someone you would like to know better, you have chosen one of the most controversial men of the 1990s, O. J. Simpson!
Although written while under extreme duress and potentially exaggerated, even at first glance this writing displays powerful emotions and mood swings. See how the word whom in the first line dips below the ruled line? Even though the lined paper provides a concrete guide, he ignored it. Instead, the writing moves in a wavy pattern, showing an inability to control his feelings. O. J. is pulled by contradictory emotions, shown in the mixture of left- and right-slanted letters (for example, in the fourth line: "I loved her, allways"). A person whose love is stable and dependable doesn't demonstrate such conflict of feelings.
Throughout his writing O. J., an intuitive typology, combines upper- and lowercase printing, as in the word different in the tenth line. This signifies that he has trouble distinguishing between right and wrong. His values can shift according to his need or whim.
In various places in the sample, O. J. crosses out a word using multiple strokes, making it black with pressure. This means that he can't be told he's wrong or take criticism. He wants things his way, no matter what. Pressure him or point out any of his failings and anger, hostility, even rage may erupt without warning. This quality is also seen in the way the letters get larger at the end of words (such as the r at the end of the word for in the eighth line down, and the d at the end of the word second in the thirteenth line), as well as multiplesize letters. They indicate a man who is mercurial, emotionally erratic, and potentially explosive. In fact, some of the punctuation marks, such as the intense period at the end of the first paragraph, suggest a sadistic tendency.
Printing is often used to mask one's real identity; it gives a pleasing presentation and suggests emotional control. The fact that O. J. prints instead of using script explains why people rarely see him for what his ex-wife knew him to be.
The writing is fluid, and the letterforms display an above-average intelligence. The space between words, while somewhat uneven, is basically pleasing. This space picture reveals a man who knows his way around. Inner conflicts, as reflected in the handwriting, are those of a troubled, unfulfilled, and unstable private person.
2. Elie Wiesel This is a man with the most refined sensibilities, whose writing style is intelligent, as seen in the highly original letter and garland forms. It is Nobel Prize winner Elie Wiesel. He is both a feeling and a thinking type. His range of sensitivity to living things and ability to identify with other people's emotions are seen throughout his writing. This is a highly compassionate person with a profound inner awareness. He is willing to make a deep and honorable commitment and has high ideals, shown in the clarity and openness of the writing, as well as the delicacy of the letters.
Download


Copyright Disclaimer:
This site does not store any files on its server. We only index and link to content provided by other sites. Please contact the content providers to delete copyright contents if any and email us, we'll remove relevant links or contents immediately.