Fatal Fortune by Miranda Rijks
Author:Miranda Rijks [Rijks, Miranda] , Date: February 19, 2020 ,Views: 511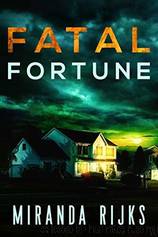 Author:Miranda Rijks [Rijks, Miranda]
Language: eng
Format: epub
Publisher: Inkubator Books
Published: 2019-05-04T16:00:00+00:00



'Mrs Durrant. I am Dr Rhandeshi. I operated on your son.'
He doesn't look much older than George and is strikingly good-looking, with coffee-coloured skin and sparkling green eyes. He is wearing a white coat over an open-necked pale-blue shirt and beige chinos.
'George is in ICU,' he says, holding my gaze. 'The operation went well, and he is expected to make a good recovery. He has several broken ribs and a punctured lung, which we needed to operate on, and his right femur was quite badly broken, so we inserted a titanium plate, which will hold it together. Recovery will be fairly slow, but we expect him to be walking soon, and there shouldn't be any long-term effects.'
I want to hug this young man, to thank him for stitching my boy back together again. I can't get any words out to express my relief.
The spiky-haired nurse rubs my forearm. 'Come and get a cup of tea.'
'Thank you,' I murmur to both of them, and follow the nurse into a waiting room lined with blue plastic chairs and a television blasting out a family-friendly quiz show. She hands me a steaming cup, way too milky for my liking.
'Your son will be in ICU for several hours, and then we'll get him settled into a bed on the ward. Why don't you come back to see him tomorrow?'
'Can't I see him now?' I urge.
She gives me a sympathetic smile. 'Visitors aren't allowed in ICU, and by the time he's settled here, it'll be long after visiting hours. You go home, have a good night's sleep, and come back tomorrow.'
'You will call if anything changes?'
'Of course,' she reassures me.
I walk slowly towards the exit, past people hurrying in the opposite direction – an elderly man with the pallor of paper being wheeled on a trolley by two orderlies; a harried mother trying to stop her toddler from screaming – past corridors lined with posters and notices, and then out into the entrance lobby. It isn't until the cold, fresh air brushes my face that I realise I don't have any way of getting home. My car is parked up on a lay-by twenty miles away. I'm rifling in my wallet to see if I even have enough cash for a taxi when a hand grasps my shoulder. I jump.
'Dr Durrant, would you like a lift?'
I hesitate. I'm not sure that I trust Joe Swain.
'I'm going your way and can drop you off at your car.'
But I'm too tired to argue, and I know I've only got about ten pounds in my wallet, insufficient to pay cash for a taxi. 'Thank you,' I say and then immediately regret accepting the offer.
As we're walking towards the car park, he throws me a surprisingly warm smile and says, 'Call me Joe.'
I am expecting a lift in a marked squad car similar to the one that brought me to the hospital, but Joe Swain drives a dark-grey Audi with no markings to suggest he is a police officer.
'Was it Ricky's van?' I ask as we edge out of the hospital car park.
Download


Copyright Disclaimer:
This site does not store any files on its server. We only index and link to content provided by other sites. Please contact the content providers to delete copyright contents if any and email us, we'll remove relevant links or contents immediately.