Halfbreed by Maria Campbell
Author:Maria Campbell , Date: December 1, 2019 ,Views: 198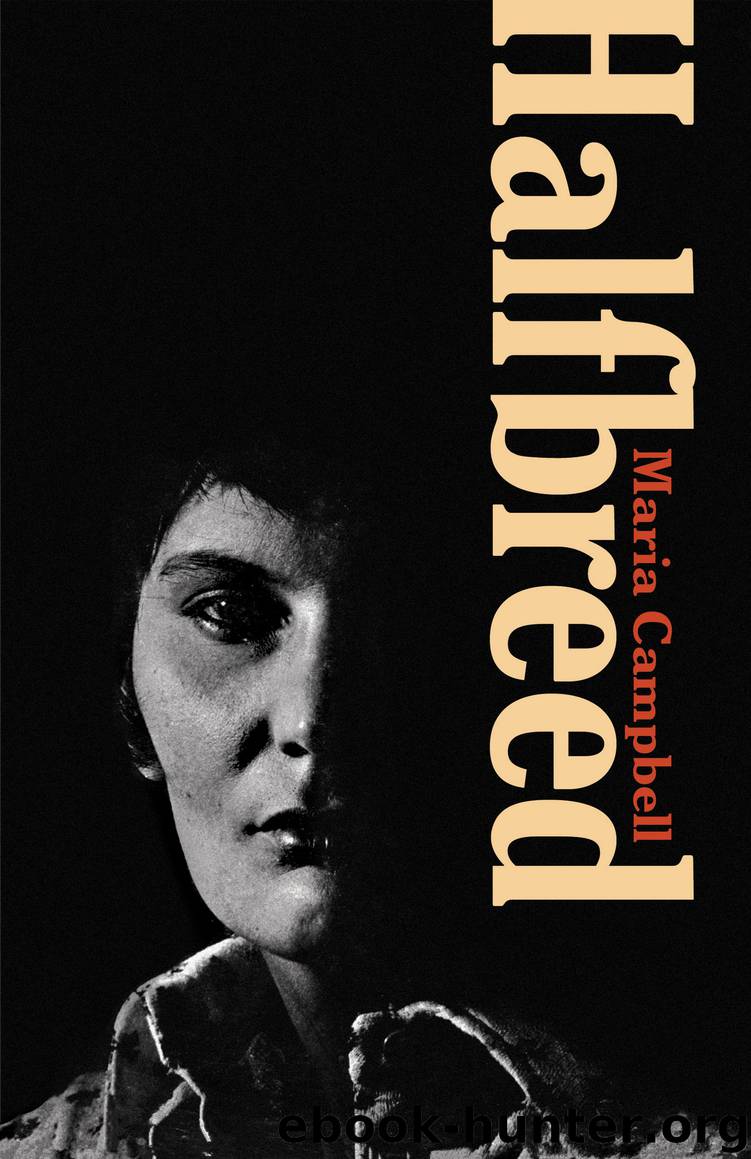 Author:Maria Campbell
Language: eng
Format: epub
Publisher: McClelland & Stewart
Published: 2019-11-04T16:00:00+00:00



Chapter 11
DAD LEFT TO GO TRAPPING again and we went back to school after the holidays while Grannie started housekeeping in earnest. Bob (the son of Mr. Grey, Dad's boss) and his wife Ellen lived only six miles away and often came to see us. They treated Jamie and me as equals and were probably the first good white people I knew. We often visited them too, spending the whole day riding, tobogganing or just talking and playing cards.
Ellen had a younger sister Karen, fourteen years old like me. Her father had died just a week before my Momma, so we found comfort in each other, and she spent a great deal of time at our house. She lived with her mother who taught in an all-Halfbreed school in another district. She didn't dislike me or other Native people, and was good to us so long as we kept in our place. My friendship with Karen, however, broke the unwritten law of each staying on his own side. Later when Jamie and Karen started to spend some time together, Karen's mother became very cold and rude and tried in many ways to break up our friendship.
Bob and Ellen moved to the farm when Mr. Grey retired to Prince Albert. Karen would stay at Ellen's for the weekend and be at our house the whole time. She had a Shetland pony and I had old Nellie, and we rode everywhere. When Ellen became pregnant and could no longer ride, she lent me her Welsh pony. We rode everywhere on those ponies, going on picnics and talking all the while. Karen was the first person I ever confided in, other than Cheechum. I told her about the hard time we were having, and how afraid we were of the relief people and the wardens and the Mounties. With Daddy hunting and trapping in the Park they were at our house constantly. She understood our fears and poverty and helped us when she could. We had many dreams, the two of us, but so different from each other's. She took her lovely home for granted and all the things they had, but admired the way we lived and preferred to be with us; my constant ambition was to finish school and take my family away to the city, giving them all Karen had and more.
While Grannie was with us for those few months, I had time to be just a fourteen-year-old girl and I started to notice boys for the first time.
No one had ever talked to me about life, babies or boys. Dad had often tried but would become very confused and put it off. Cheechum and Grannie must have taken for granted that Momma had talked to me. Most girls my age already knew everything, but I was completely ignorant. I came home from school one afternoon very frightened. Jamie and I were very close but Robbie was the only one I could talk to about personal matters, so I told him what was happening to me.
Download


Copyright Disclaimer:
This site does not store any files on its server. We only index and link to content provided by other sites. Please contact the content providers to delete copyright contents if any and email us, we'll remove relevant links or contents immediately.