Growing Pineapples in the Outback by Tony Kelly
Author:Tony Kelly , Date: March 14, 2020 ,Views: 186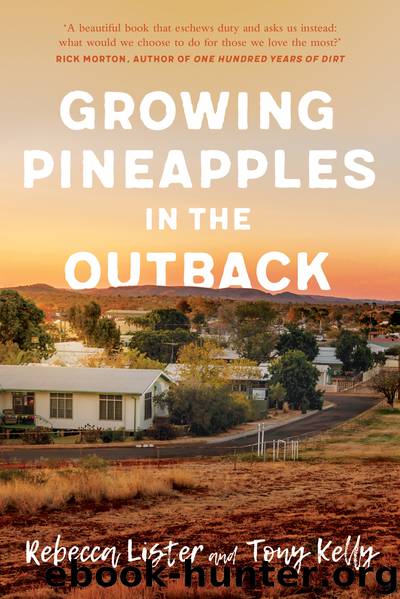 Author:Tony Kelly
Language: eng
Format: epub
Publisher: University of Queensland Press
Published: 2020-01-09T04:16:20+00:00



I did eventually get to spend time with my grandma, and though I knew I was not her favourite grandchild we were good mates. I loved visiting her when she moved to Cloncurry and became manager of the CWA hostel. There was something curious and mysterious about her that I could never quite put my finger on. She was very much her own person, but also had an old-fashioned formality about her. She had olive skin, an aquiline nose and long hair that she wore in a chignon at the back of her head. I was fair, burnt easily and had wispy blonde hair that was never going to be pulled into anything other than a scrawny pigtail.
I went to my first high school dance when I was twelve and in Year 8. All week we had watched preparations being made. The dance was going to happen on the school tennis courts, and large sheets of hessian were hung across the tall wire fences to create a private space. The tennis nets and umpires' seats were removed, and party lights were strung around the courts. A huge PA system was trucked in.
On Friday night the courts were packed. It felt like every kid at school had turned up. The dance went off – there was smoking and kissing and fighting and sneaky drinking. I had never seen anything like it. My friends and I spent most of our time hiding up the back, just watching the antics. The PA pumped out all the latest hits, and although it was overwhelming it was also exhilarating.
Grandma was at our house when David and I got home from the dance. 'How was the orchestra?' she asked.
This question reduced David and me to hysterics. We laughed so much we couldn't speak.
'You are both rude and very silly,' said Grandma, sucking on one of her many Alpine cigarettes. As a teenager, I stole these cigarettes from her and smoked them down the creek with my friends. I hated the taste, but thoroughly enjoyed the naughtiness of it.
Like Mum, Grandma loved the bush. My favourite trips into the bush as a kid were in Cloncurry with Grandma. We'd pick her up from the CWA hostel and head down the riverbed for a picnic. Grandma would always stick her head out the window of the car and say, 'Can you smell the gidgee?'
I would stick my head out and inhale deeply, but I was never sure what I was trying to smell. Grandma and Mum could also smell when a storm was coming. As I grew up, I eventually got the sense of these smells as well.
Down at the creek, Dad would make a fire, boil the billy and make tea. Mum would slice the fruitcake and get out a tin of homemade biscuits. Sometimes we would stay until after sunset. I loved this time. Mum and Grandma would talk about books and recite poetry. The evening shadows and the light of the fire gave me confidence, and I too would recite.
Download


Copyright Disclaimer:
This site does not store any files on its server. We only index and link to content provided by other sites. Please contact the content providers to delete copyright contents if any and email us, we'll remove relevant links or contents immediately.