Engaging Learners through Zoom by Jonathan Brennan
Author:Jonathan Brennan [Brennan, Jonathan] , Date: November 22, 2020 ,Views: 21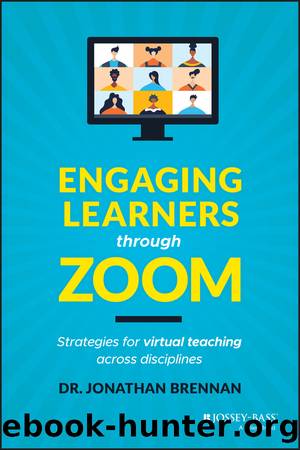 Author:Jonathan Brennan [Brennan, Jonathan]
Language: eng
Format: epub
ISBN: 9781119783152
Publisher: Wiley
Published: 2020-10-01T00:00:00+00:00



Feedback Prompt:
Any Discipline: What was the most important main point from today's class?
Any Discipline: What concept is still the least understandable from today's class?
Any Discipline: What could the instructor do to improve your learning in future Zoom classes?
4. Learning Stations
Learning Stations are an opportunity for learners to explore several aspects of a complex topic. The instructor will need to design the stations in advance, organized in modules/folders, and have them available on the course management class site. Each set of station materials should take students about 10 minutes to explore. To engage learners who move through the materials more quickly than average, offer a "Diving Deeper" option at each station. Learning Stations can introduce topics at the start of a lesson or deepen the understanding of more-experienced learners.
Begin by briefly introducing the topic to students, then ask them to visit the CMS for Learning Station 1. Let them know they should view, read, and take notes on the materials in the modules/folders there. They should also write down at least one question, which they will be asked to share when they return. Also let them know that if they finish sooner than 10 minutes, they should open the folder with the Diving Deeper Question. After 9 minutes, make a short announcement that they have 1 minute remaining, and then ask them to return their attention to the main session.
In the main session, in between the learning station visits, use one of several strategies for students to share their learning or questions:
Ask students to each send a question through Chat. Select several questions to answer yourself, and pose some of the other questions for students to answer.
Ask all students to review their notes, then to write down one valuable takeaway from their learning station (or an answer to a question, if part of the station activity). Call on students, one at a time, to share and explain their takeaway/answer. Ask about one-third of the students in each of the three rounds so that by the end, all of them will have had a chance to share something.
In a class discussion, ask students to share their answers to the Diving Deeper Question. Comment and clarify the answers if needed, providing a brief lesson.
Download


Copyright Disclaimer:
This site does not store any files on its server. We only index and link to content provided by other sites. Please contact the content providers to delete copyright contents if any and email us, we'll remove relevant links or contents immediately.