Count Zinzendorf: Firstfruit by Janet Benge & Geoff Benge
Author:Janet Benge & Geoff Benge [Benge, Janet & Benge, Geoff] , Date: June 3, 2020 ,Views: 47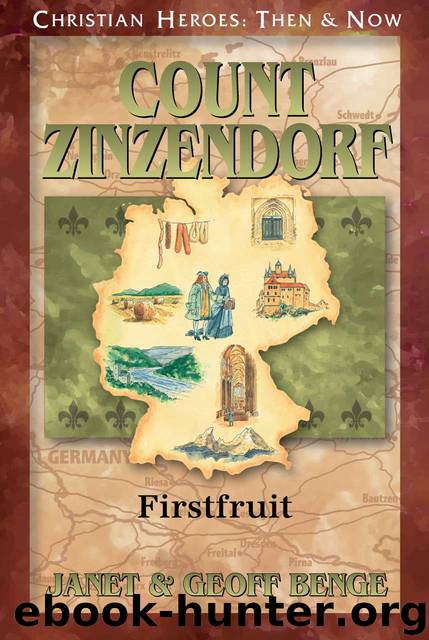 Author:Janet Benge & Geoff Benge [Benge, Janet & Benge, Geoff]
Language: eng
Format: epub
Tags: Biography
ISBN: 9781576582626
Google: snUwngEACAAJ
Amazon: 1576582620
Barnesnoble: 1576582620
Goodreads: 1000368
Publisher: YWAM Pub.
Published: 2006-03-01T00:00:00+00:00



On December 19, 1734, Count Ludwig von Zinzendorf was officially ordained as a pastor in the Lutheran Church. His ordination was the fulfillment of a dream and a way to protect the community he loved. Now he could shelter the Herrnhut community from accusations of being anti-Lutheran. He could also perform all of the offices of a state-appointed minister, baptizing, marrying, burying, and serving communion.
In the meantime, August Spangenberg had made a trip to London to meet with General James Oglethorpe and James Vernon, the secretary of the trustees of the Georgia colony in North America. There he was able to secure a land grant in the colony of five hundred acres along the Ogeechee River. In early 1735 August led a group of nine Moravian missionaries from Herrnhut to Georgia. Their purpose for going was twofold. First, the Moravians in Georgia could prepare a place for their brethren at Herrnhut to flee to in case they were banished from Saxony, and second, it provided them with a base from which they could launch missionary work among the Indians of North America.
The year 1735 continued to be a time of sending out more missionaries. In January two men set out for the Guinea coast of Africa, and in May, eleven more missionaries arrived on Saint Croix.
Word reached Herrnhut later that year that Tobias Leupold had died, as had seven of the newly arrived missionaries. And nine other missionaries, including some of those who had originally gone out with Tobias, were so weakened physically that they decided to return to Herrnhut for rest. Three of them died on the journey home. All in all, twenty-two of the first twenty-nine missionaries sent out were dead. The Herrnhut community dubbed the sad situation "The Great Dying." Some observers expected them to give up their mission work in light of the great cost of human lives, but just the opposite happened. For every missionary who died, two stepped up to take his or her place. A mission was opened in Surinam, on the northeast coast of South America, and zealous missionaries set out to staff it, knowing that their chances of ever seeing their families and homeland again were slim.
Although Ludwig was concerned that the Moravian refugees at Herrnhut might be banished from Saxony, to his surprise, it was he who was banished from the kingdom! Resentment toward his unorthodox religious ways had been growing among the nobility in Saxony for some time. And many thought he had gone too far when he, a count, was ordained a Lutheran pastor. Such an act upset the religious and social ideals that kept people in their "proper place." Eventually Baron Huldenberg of Neukirch, a Saxon nobleman, could take it no longer. He complained to the royal court in Dresden that Ludwig was enticing people who lived on his estate to come and live at Herrnhut. For the royal court it was one complaint too many against Ludwig, and on March 20, 1736, the new Saxon monarch, King Frederick Augustus III, issued an edict banning him from the kingdom.
Download


Copyright Disclaimer:
This site does not store any files on its server. We only index and link to content provided by other sites. Please contact the content providers to delete copyright contents if any and email us, we'll remove relevant links or contents immediately.