Bear in the Back Seat II: Adventures of a Wildlife Ranger in the Great Smoky Mountains National Park: Smokies Wildlife Ranger Book 2 by Jourdan Carolyn & DeLozier Kim
Author:Jourdan, Carolyn & DeLozier, Kim [Jourdan, Carolyn] , Date: July 10, 2020 ,Views: 140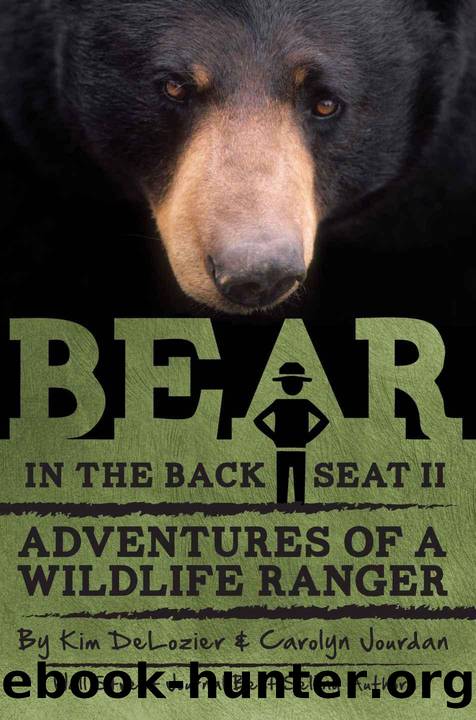 Author:Jourdan, Carolyn & DeLozier, Kim [Jourdan, Carolyn]
Language: eng
Format: epub
ISBN: 9780988564350
Publisher: Zo'o Media
Published: 2014-03-22T22:00:00+00:00



"That lady looks familiar," I said, "I think I know her."
I watched the lady through my binoculars. "That's Lois!" I said. "She's married to Chuck Hester. He works for the wildlife department as a hog hunter."
As the words left my mouth, I started to put two and two together as to why an elk collar would be in his house. I started to laugh under my breath. I turned to the others, and said, "No poacher lives here."
I had an idea why there was a signal coming from the house, so we drove over to have a chat with Lois. After a brief howdy, I told her Steven had picked up a signal from a transmitter coming from inside their house that was broadcasting all the way to Waynesville, North Carolina.
She invited us to come in and take a look. Steven turned on his telemetry receiver. We could hear a loud beep-beep-beep-beep. We tracked the signal into the garage and to a footlocker.
It was the locker where Chuck kept his Park backpack. Lois opened it. We rummaged through Chuck's backpack and found the source of the signal down at the bottom, a transmitter we'd removed from an old radio-tracking collar.
Every member of the wildlife crew had to travel in the backcountry to hunt hogs, investigate bear problems, or conduct animal surveys. Because of the potential danger of hiking and camping alone in the backcountry, I wanted a way to locate each person if for any reason they became unable to radio for help.
We had some old radio-telemetry collars left over from early bear and wild hog research projects, so I'd asked each member of the crew to carry one of the collars whenever they were in the backcountry. Then, if they got into trouble, we could locate them in the same way we'd found Chuck's transmitter—even when it was inside a backpack, a locker, a garage, and a house, in the middle of Sevierville.
Download


Copyright Disclaimer:
This site does not store any files on its server. We only index and link to content provided by other sites. Please contact the content providers to delete copyright contents if any and email us, we'll remove relevant links or contents immediately.