American Serengeti by Dan Flores
Author:Dan Flores [Dan Flores] , Date: July 11, 2020 ,Views: 325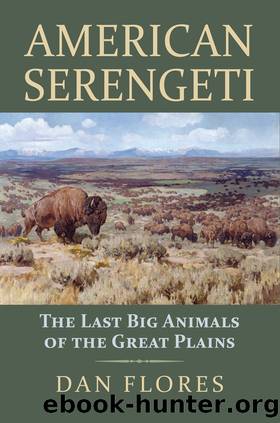 Author:Dan Flores [Dan Flores]
Language: eng
Format: epub
ISBN: 9780700622283
Publisher: University Press of Kansas
Published: 2016-03-07T00:00:00+00:00



A DREAM OF BISON
6
In the fall of 1886, William T. Hornaday, taxidermist at the National Museum in Washington, stepped off a train in Miles City, Montana, to undertake a poignant and historic task. The American bison, an animal whose charisma and staggering abundance had for three centuries stood as shorthand for North America to the world, somehow was on the brink of extinction. Except in remote parts of Texas, Montana, and Alberta, where rumors held there might be two or three tiny herds of wildly spooky survivors, a creature whose range had once extended from northwestern Canada to Florida, whose herds sometimes took the better part of a week for mounted horsemen to pass, was tottering on the precipice of total disappearance. Plains hunters like the Blackfeet Indians, who had annually taken 20,000–40,000 of them, had returned from their hunts in 1883 with six. That is why Hornaday was in Montana. Bison were about to fade into memory, and the National Museum at least wanted a representative collection that might become a museum exhibit, since that was all future citizens might ever see of ancient America's most iconic creature.
The Hornaday party's goal was to obtain 20–30 specimens, which the scientist understood might represent as many as half of the wild bison left in the United States. He had narrowed his search to west-central Montana, between the Yellowstone and the Missouri, using the LU-Bar Ranch as headquarters, to hunt a rumored herd of thirty-five in the area. The US army provided support, and two soldiers and two cowboys from the ranch accompanied Hornaday and his assistant, Harvey Brown. On Calf Creek, a southern tributary of the Musselshell, in October this party began to find buffalo. The stories about the survivor animals were true, though; these buffalo were extraordinarily wild and perceiving themselves pursued, fled nearly fifteen miles across the badlands of eastern Montana. Nonetheless, as dusk was falling on October 16, two of Hornaday's hunters managed to down a huge bull. Because of the lateness of the hour, the party left their prize where it fell with a plan to return the following day.
Here is how Harvey Brown described the scene when they arrived the next morning: "Sunday, Oct. 17th. To our great dismay the noble red men had visited the bull which Boyd & McNannin had killed the day before." Brown's astonishment no doubt captured the expedition's general confusion about what had happened. "All that remained [of the bull] was the head painted red on one side yellow on the other with a red & yellow rag tied to one horn, [and] eleven notches cut in the other [horn]. . . . All around were moccisan tracks."
Hornaday's party went on to take twenty-two buffalo out of this last remnant of animals, a tiny puddle that was almost all that was left of a once vast, now evaporated, ocean of animals. As the director of the New York Zoological Park and a founding member of the American Bison Society, Hornaday would
Download


Copyright Disclaimer:
This site does not store any files on its server. We only index and link to content provided by other sites. Please contact the content providers to delete copyright contents if any and email us, we'll remove relevant links or contents immediately.