All These Things That I've Done: My Insane, Improbable Rock Life by Matt Pinfield & Mitchell Cohen
Author:Matt Pinfield & Mitchell Cohen [Pinfield, Matt] , Date: September 25, 2021 ,Views: 201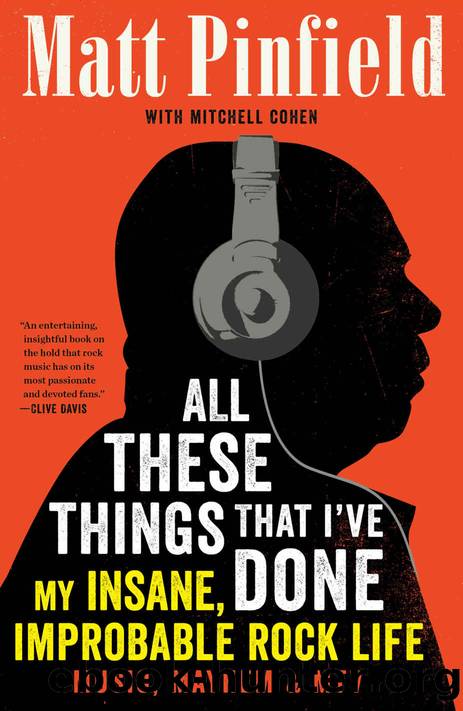 Author:Matt Pinfield & Mitchell Cohen [Pinfield, Matt]
Language: eng
Format: azw3
Publisher: Scribner
Published: 2016-09-06T00:00:00+00:00



M(att)TV
Matt rocking the crowd
One night I was at a show and ran into a promotion person from Atlantic Records. She introduced me to her boyfriend, Kurt Steffek, who was in the music department at MTV. Kurt was responsible for programming 120 Minutes, the network's modern-rock show, for lack of a better description. I'd had a couple of drinks. I wasn't stupid slurring hammered, but you could tell. Steffek and I started talking, and I told him 120 was my favorite show on the channel. He said, "Man, I love your station. I live on Long Island near Amityville, and on my drive home I listen to you all the time. Look, we get hyped on everything, especially on 120. Would you mind if I call you and track music with you? You're an alternative station, and I'd like to ask you what stuff you're getting a real temperature on, so when we have a decision to make I can say, 'Well, HTG says that people are really into this song,' or that no one gives a shit." So we became friendly, and he'd call me to get a read.
At the end of '92, I think it was, I read in one of the music trades that Dave Kendall wasn't going to be hosting 120 anymore. I immediately called Kurt.
"What happened with Kendall?"
"Well, you know, dude, they blew him out, and I don't know what they're going to do, but for now they're letting the artists host."
And I said, naïvely and arrogantly, but because I knew deep in my heart it was true, "You guys should hire someone like me to do the show, who the artists will respect, and who knows the music inside and out. Not someone who just reads what's on the prompter."
"I don't know if they'll think you're the demo."
Maybe they wanted someone young, or someone who wasn't bald.
He said he'd call me in a week. Instead he called in an hour and told me that Andy Schuon, the head of programming, wanted to bring me in for an audition. It didn't happen right away, and I guess they were thinking, "Well, we've got the bands doing it themselves right now, but what the hell, we'll try Matt out." My friend Steve Leeds, who went with me to the tryout, said I went wearing a Morrissey T-shirt that had a hole in it.
So I went to National, the old MTV studio, and there were maybe a dozen or more people in the room. They didn't give me any copy, just told me to start talking. They wanted me to riff. It was about a half hour of me telling about my radio thing, DJing in clubs, spinning alternative music, interviewing tons of artists. I thought it made total sense for me to be doing 120, and I was excited about the prospect.
A little time went by, and I got a call saying Depeche Mode were coming up to MTV and they didn't want to host on their own.
Download


Copyright Disclaimer:
This site does not store any files on its server. We only index and link to content provided by other sites. Please contact the content providers to delete copyright contents if any and email us, we'll remove relevant links or contents immediately.