A Springtime Affair by Katie Fforde
Author:Katie Fforde [Fforde, Katie] , Date: May 5, 2020 ,Views: 300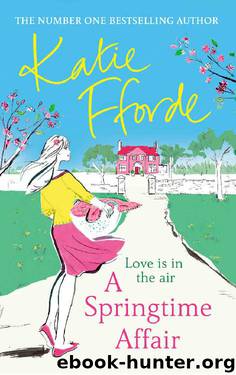 Author:Katie Fforde [Fforde, Katie]
Language: eng
Format: epub
ISBN: 9781473539921
Publisher: Random House
Published: 2020-02-20T00:00:00+00:00



Chapter Twenty-one
Helena was somewhat surprised to find a text from Cressida asking her over when she finally opened her eyes the following morning. She really needed to get on with her work but as she was still bonetired and wanted to ask Cressida for the blankets and throws given to her over the years, she decided to go.
She did take the time to attack her hair with straighteners before she went, though, having gone to bed with it wet. She didn't want to arrive looking like one of those dogs who have dreadlocks.
She finished her breakfast and had a banana – there was no guarantee of biscuits, or indeed anything, at Cressida's house. She planned to visit her mother on the way home. Knowing how many blankets she could come up with before she started would give her courage to jump into another killing work schedule.
Cressida was unusually friendly when she opened the door to Helena. 'Helena! Come in! I'm so glad you had time to come round, but I just wanted to tell you how amazing the show was! I've never seen so many truly beautiful things in one place before. Come in! I've got the coffee on. Martin has taken Ismene to a museum – it's their Sunday treat if we're not doing anything else.'
Not only was there coffee, but there were gluten-, dairy-, sugar- and taste-free biscuits on offer. Helena was suspicious. Surely all this wasn't because Cressida had liked the show? Although she knew she would like it – high-end, expensive and impeccable quality, it was perfect for Cressida's aesthetic taste.
'Well, this is very nice,' she said, hearing her mother's voice in hers.
Cressida gave a self-conscious little cough. 'You've probably guessed, Helena, that I haven't just asked you here to congratulate you on your show – which was fantastic.'
'Yes?'
'I'm a bit worried about Gilly.'
Guilt came over Helena like a fog. She had been so immersed in her work that she hadn't been paying any real attention to her mother, beyond accepting meals and biscuits. 'Why?'
Cressida pursed her lips and searched for words – unlike her, who usually knew exactly what she wanted to say and said it. 'I don't know if you're aware, but Gilly's been romantically involved with Leo.'
Helena nodded. She did know this – or rather – she had known it, but now she thought it was over.
'I think Gilly senses you're not entirely happy about it which is probably why she hasn't confided in you.' Cressida managed to imply that Gilly had confided in her, which Helena very much doubted.
'Go on,' said Helena, trying to appear dispassionate.
'The thing is, I know it's difficult when it's your mother, but this could be her last chance of happiness. Leo is really lovely and has an amazing house. She's not getting any younger and having seen that having a new life with a gorgeous man is possible, you mustn't snatch the dream away from her.'
'I would never do that.' At least this was something that Helena could say with total sincerity.
Download


Copyright Disclaimer:
This site does not store any files on its server. We only index and link to content provided by other sites. Please contact the content providers to delete copyright contents if any and email us, we'll remove relevant links or contents immediately.